Hopefully Dan Bylsma doesn't have to make this decision in the playoffs, but players do get injured, probably more in the playoffs than any other time. The Penguins will most likely have to call someone up from the WBS Penguins, who it'll be is the big question.
On one hand the Penguins have Miroslav Satan, who probably has the highest paying contract in the AHL right now, and on the other they have Janne Pesonen who is getting paid peanuts compared to Satan, especially if the pay was based on production.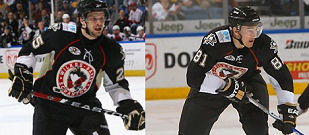 In Satan's first game for the WBS Penguins he had a goal and 3 assists and it looked like he was going to prove to the world that the Ray Shero made a big mistake sending him down. In the four games since then, Satan has 1 assist. He hasn't registered a point and?is a minus 2 in the last three games. The mistake that he proved that Shero made was the mistake of signing him in the first place.
Janne Pesonen has already crushed the WBS Penguins scoring record for points scored in a season and keeps adding to it, he registered another two goals last night.??Pesonen has 5 goals and 2 assists in the five games since Satan arrived on the farm.? For the season with the WBS Penguins, Pesonen has 29 goals and 44 assists and that was with missing a bunch of games because he was called up to play with the big boys.
Pesonen played 7 games with the Pittsburgh Penguins this season registering 0 points. In his defense, Therrien used him very sparingly and mainly in defensive situations. His average ice time per game was 7 minutes and 27 seconds, generally you see players, let's use Satan for example, get over twice that amount of ice time per game.
So if for some reason an injury results in the Penguins having to call up someone for offense, do you call up the experienced NHLer or do you call up the guy who is unproven yet a scoring machine in the AHL?