A week ago Jaromir Jagr claimed he would come back and play for the Penguins at the league minimum if Mario asked him to.  "I was thinking about it and if Mario would call me and say, I'd like you to play for our team,  I would think about it a lot," Jagr said in a phone interview. "I would play for the minimum salary. I would play for $350,000 just for him, because I owe him my hockey life. I want to pay him back because he has made me what I am, besides my parents."

I know a lot of Penguin fans are upset with Jagr for supposedly demanding a trade right after he won his 5th Art Ross trophy for the Penguins. When you look at the facts. Jaromir gave a lot to the Penguins without complaining.
When the Penguins were barely making payroll in 1998, and sometimes missing payroll. Jaromir did not complain, he played through it.  How did the Penguin hero Mario Lemieux handle it?  He sued the team forcing it into bankruptcy, all while attendance was down because he wasn't playing, but was draining the team of it's resources.  Jagr played on.  In 2001 with the Penguins financial situation still in question, Jagr was up for a contract of Mario Lemieux proportions, having won 5 Art Ross trophies and all.  I'm sure Jagr's agent and the Penguin management were unable to come up with a contract even close to what Jagr's worth was.  Forcing Jagr to ask for a trade.
With the contracts that Jagr has signed with the Capitals, Rangers and Penguins, Jagr is now the highest compensated NHL player in history at 98 Million.  He probably still even has some of it after paying off gambling debts.  The contract that Jagr has signed with the KHL is a 2 year contract worth around $23 million in untaxed US currency.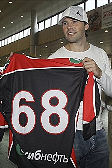 Jagr as of today has 23 goals and 26 assists for 49 points in 46 games for the Omsk Avangard.  While he is playing well, the team and the league are falling apart around him, or literally right beside him. Earlier in the season, the Rangers first round pick Alexei Cherepanov, collapsed on the team?s bench during a game, while sitting right beside Jagr.
"He kind of looked up to me and was always asking me about how to get ready for the NHL,"  Jagr said.  "He kind of reminded me of me when I was young because he would stay out on the ice for hours. He didn't score for the first two games and he kept staying out after practice to work on things for a long time."
Last Friday the team president Konstantin Potapov, General Manager – Anatoly Bardin and team doctor Sergei Belkin were all suspended after it was determined that Cherepanov was being given injections of a performance-enhancing drug.  Add to that Wayne Fleming (assistant coach of Calgary who was heavily recruited by Jagr) who was already the second coach of the season quitting or dismissed in the middle of a game, and John Grahme the goaltender released because of alcohol problems.
On top of all that, (if it is even possible to put more on top) the KHL is reported to be in serious financial trouble and is rumored to be asking players to take pay cuts.  This is like the Cold War, Jagr said.  I lived with this stuff for the first 20 years of my life, with the Communists saying the US is the worst country in the world. To be honest, I don't know about other players, but I know our team has had no problems.
Jagr's contract will be up in 2009/2010. If he does make a return, he will be 38 years old.? Could the Penguins use him? I would say he would be a fantastic winger on Crosby or Malkin's line. If we happen to get Hossa back, the Penguins would be a top Stanley Cup contender. This would appeal to Jagr to be able to retire winning a cup with the team he started and played so well for. Then when he retires, we retire his jersey its rightful place in the rafters.
Also Read:    Jaromir Jagr a Penguin next year anyone?