I know some people like to see a good hockey game where both teams compete on a level playing field and the game is tightly contested down to the final buzzer, but not me. At least not after having been through so many shootout games recently. I very much enjoyed watching the Pens run over the Thrashers last night.
Had Malkin scored on that penalty shot, it may have been the perfect night. That may be all the beer influencing my decision, but I had a lot of fun at the old Igloo last night.
It was another strong effort from start to finish (except for maybe the first 34 seconds or so). Certainly, there is still room for improvement, but I like what I am seeing right now.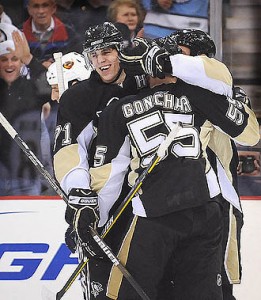 Notes: It was nice to see Malkin get 5 points last night.
It was also nice to see Gonch get four points. How well is this guy playing so soon after coming back from his injury?
Staal and his linemates Kennedy and Cooke continue to impress.
Just for the record…..Eaton did score on a odd man rush with Gonchar. That was worth the price of admission.
?
Let's go Pens!
?
.