Talk about an up-down season!? For the third game in a row under new coach Dan Bylsma, Kris Letang will be sitting above the ice watching the game.? With this, our top two scoring defensemen this year are healthy scratches.? Letang was having a?decent year, was invited to the Junior All-Star team and had really seemed to gain some confidence from being invited.?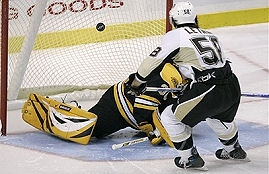 His first game back against the Rangers, he scored two goals (one was the game winner) and was looking fantastic.? Then five games later against the Blue Jackets he once again had a two goal game, showing that the first two goal game wasn't a fluke and we have seen Letang finally arrive.? Then just like that the bottom fell out.?
The Valentines day massacre which saw the Penguins lose to the bottom feeder Maple Leafs saw Letang's plus minus?going?-3.? Then was proceeded by his coach getting fired and the hiring of Dan Bylsma as interim coach.?? The next game against the Islanders Letang went -2 and ended up in Bylsma's dog house and has been healthily scratched ever since.??
Letang is part of the future Penguin defensive core that includes Goligoski.? If Bylsma feels strongly that Letang needs to work on his stuff and cannot crack the lineup, perhaps it would be wise to send him down to the farm and let him and Golisgoski pair up.? This could create a great defensive tandom when they are ready.? Don't be surprised if you see him as part of trade day either.