Malkin is in the building and paired with Crosby centering different lines the the biggest team difference between MARIO and Jagr and Malkin and Crosby is the supporting players like: Coffey, Mullen, Tocchet, Stevens, Francis, Trottier, Murphy, Samuelsson… in case you required a reminder.
But, Jagr wasn't a center… the down the middle was MARIO and Francis. A pretty decent duo. Malkin and Crosby hopefully play more years together and if so will be as a tandem better than Mario and Francis. Better than Mario and Jagr??? Anything's possible.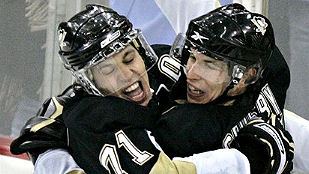 Malkin and Crosby are the best duo in the NHL right now. The closest to them IMHO are the FLYERS Carter and Richards. A distant third duo is in Boston with Savard and Krejci. Not to slight Ovechkin and Semin at all but without centers teams are missing the key ingredient second only to goalies.
Per Luca Caputi on the Madden Show… Madden prodded the kid to give more on Malkin's between period rant in the locker room after being upset about the poor performance and puts-up $1000. (Caputi claimed, it's to the 'team fund') if they put it together and came back to win the game. Then Malkin goes out and puts on a third period performance that cost him a GRAND. THIS… especially if the Penguins turn this season around will be talked about for years… and what happened is Malkin has taken the reigns of what Crosby has said, "This is his team, too."
We are pretty much blessed as Pittsburgh sports fans, aren't we.
This is DR Hook… carry on