Now that Evgeni Malkin has won the scoring title, barring Pavel Datsyuk getting 16 points today or Daniel Brier registering 82.  Ray Shero needs to get off his keister and start the search for a quality scoring winger.
For the last two years the Penguins have spent the bulk of the regular season searching for a Scoring winger for Sidney Crosby's line and making deadline deals to secure that winger for him.  A season ago the Penguins got Marian Hossa who was a fantastic fit, but lost him to free agency, even though Shero threw tons of money at him.
This year the Penguins signed Kunitz and Guerin, Chris Kunitz is signed for three more years and Guerin, like Hossa will be an unrestricted free agent at the end of the season, and probably will be playing somewhere else next year.  The fact is that in the upcoming season Crosby will have a quality scoring, play making winger on his line all season, something that Malkin has had for the last two.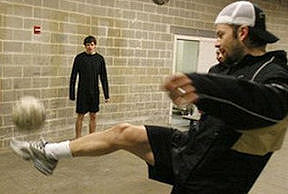 Petr Sykora is an unrestricted free agent at the end of the season and is looking to sign a deal with the Penguins.  He has said in the past that he wants to re-sign with the Penguins just to play with Malkin, but seriously who wouldn't want to play with the leagues Art Ross Trophy winner. 
Ray Shero needs to make a decision.  Do you try to sign Sykora now or do you try to go for the gold in the summer free agent market.  Right now Sykora is in a slump of slumps, which is very odd because everyone knows that players play 10 times better the year their contract is up. He only has 3 goals and 2 assists in the last 20 games, that's 1/4 of the season.  Carry the one multiple by and add 3 that would figure to be 12 goals 8 assists or 20 points on the season, that's no way to finish your contract year and is definitely not the numbers of a guy who played the whole season on a line with the scoring champion.
There is a rumor that Sykora's shoulder is injured, and about twelve games ago he was scheduled to sit out because of it, but never did. He has missed a few practices. If that is true then Sykora could come back good as ever next season.  If it's not true, you really have to wonder if it would be wise to sign Sykora.
The best option for Shero would be to sign Sykora now, and try to get someone in the free agent market.  If we get someone in the free agent market, trade Sykora, trade him for a bag of pucks if you need, just get his salary paid for.  It would be like we never signed him anyway.  If we don't get a better free agent, then Malkin still has his winger for the season and all is well.
The worst option would be having Malkin go all year without a quality winger like Crosby has gone the last two.