Miroslav Satan?& Jordan Staal have both been mentioned in many of the Pittsburgh Penguin trade rumors over the last week or so.? Both of them have been having sub par seasons according to their expectations and both have been blamed some what for the Penguins doing poorly this season.?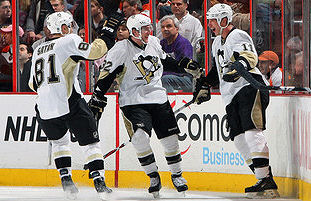 With Therrien being replaced by Dan Bylsma, has anyone else noticed that the two of them look like whole new players.? Is it possible that the reason that they?were been doing poorly was because they were playing under Therriens stifling defensive game.? For that matter Satan has played under even more stifling conditions under Nolan with Islanders and probably under the most repressive style in Buffalo.
Both Staal & Satan have 2 goals and an assist in the last two games, both of them have 17 goals on the season and are only seperated by an assist each.? Both are currently playing on the second powerplay.? I guess the question comes down to whether they are both caterpillars that are about to sprout wings under this new system, or are they both playing hard because of trade rumors.?
A little more than two days until that 3PM Wednesday deadline.