With the Penguins ready to roll into round three of the playoffs in their third race for 4, we thought it was time we came together here at PenguinPoop and put down our predictions of  who we think is going to win the Eastern and Western Conference's and maybe just a few reasons why.
Western Conference Predictions: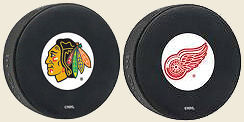 Dr. Hook: Speed and skill have taken Chicago a long way.  They have balanced scoring and three defenseman who move the puck and get it to the right people.  Khabilbulin has already won a Cup and they have Huet as a backup.  Their PP was clicking at about 25% on the road and as long as Joel Quenneville doesn't screw things up (I never liked the guy) I see Blackhawks upsetting the Red Wings.  Pavel Datsyuk is in a major funk and Detroit's PK ranked at the bottom of the league.  I'm counting on Scotty Bowman having backdoor meetings to make sure Quenniville doesn't screw this one up.  I'm saying CHICAGO in 6.

Reg Dunlop:  As for the Wings and Hawks, I can't seem to come up with any good reason that the young, high-flying Blackhawks can outmatch the Red Wings. Though, I think the Red Wings are beatable this year, I don't think the Blackhawks are there yet. I think the Red Wings have the ability step it up and win this series. Plus, how cool would it be to see the Pens beat the Red Wings in the Finals? I like Detroit in 5.

STH35: In looking at every possible angle at this series, and trying to find a way that Chicago can win, I can't do it.  The Blackhawks have a very young, talented and energetic hockey club.  They are not ready for the Red Wings quite yet.  Toews and Kane are two of the brightest young stars in the game.  Their lack of playoff experience will be too much to overcome.  The Red Wings still appear to be unbeatable.  Even when you shut down their big guns, someone steps up for them. Every edge goes to Detroit.  Red Wings in 5.

Phil Krundle: Chicago got a lucky draw the first two rounds and Detroit should take this series no problem.  Khabibulin and Chicago's defense don't stand a chance.  Detroit got a tough draw in the second round going up against a very experienced, very  defensive Anaheim team.  While the first two games might be close, Chicago will get dejected from not winning the first two after all the effort they put in and the second two games will be blowouts. Detroit in 4.
Eastern Conference Predictions: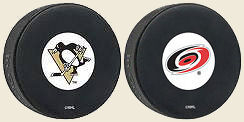 Dr. Hook: With all the Staal bother talk and Ron Franchaise talk the CANES are a comeback team with players who in my humble opinion can't stand up to the pressure the Penguins will put on them.  Erik Cole brought a jump start to Erik Staal but frankly Cole has been MIA in the first two series… Ray Whitney had 7 points against the Devils but snoozed against Boston and Roids Brind'Amour has snoozed almost a whole season away.  Cam Ward is going to have to pitch shutouts or play like Varlamov for the Canes to pull this off.  Gonchar's back; Letang is on the rise and Crosby will make sure there is no loss of focus. Carolina is neither big nor tough and I think DISCO DAN's Flightless birdies figure out Cam Ward early… Penguins in 4.

Reg Dunlop: I think that Jordan Staal is going to have a big series against his brother.  He will be the catalyst that leads the Penguins to victory in six games.  The biggest variable as I see it in this series will be Cam Ward.  This is a guy that can steal a series.  The good news is the Pens have proven they can overcome a hot goalie.  It is Fleury's time to step up and make a difference.

STH35: It is very fitting for these two teams to be final conference opponents.  They were the best two teams in the East for the past two months.  Trying to find an edge for either of these teams is very difficult.  They both have youth, speed, veteran leadership, quality goaltending and the ability to win big games.  The difference could very well come down to two things — home ice advantage and the Penguins have Sidney Crosby.  Penguins in 6.

Phil Krundle: The Penguins need to get motivated for this series, seriously.  The last two series they already had all the motivation they needed going in.  Carolina got lucky twice at the end of both game sevens, this time, I don't see the series getting far enough that their luck will be a factor.  The Pens will get motivated and they will win the series in 5 games.  The only reason I'm giving Carolina one is because sometimes you just don't get the bounces you want and with their luck anyone can win one!