Saturday October 17th starts the return of the Penguins ugly "Bad Luck" blue jerseys and Penguin management has a plan. The plan is to change the image of the jerseys from bad luck to good luck. How are they going to do that you ask. If you must know, they scheduled the jersey only to be worn against the worst teams in the league. Here is a list of the teams and where they finished ranked in the top 30 teams last year:
| | | | | |
| --- | --- | --- | --- | --- |
| Tampa Bay  | 29th place  |                    | Toronto | 24th   |
| Columbus | 16th  |   | Atlanta | 27th   |
| Anaheim | 17th |   | Ottawa | 22nd |
| NY Islanders | 30th |   | Buffalo | 18th |
| Colorado | 28th |   | Nashville | 20th |
| Florida | 14th |   | Dallas | 23rd |
Only two of the above teams made the playoffs last year and they didn't even finish in the top half of the league. They must have read my post in March when I suggested they only wear them to play last place teams. Read> "
Stop Wearing the Pansy Ass Powder Puff Blue Jerseys!
"
We here at Penguin Poop are rebelling against the "Bad Luck Blues" with our new shirts:
Pittsburgh is Black and Gold not Powder Puff Blue!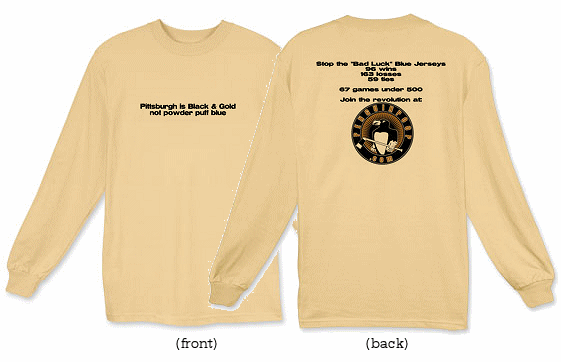 Now we are not suggesting that you throw away your ugly pansy ass powder puff baby blue jersey. We just suggest that you give it to your girlfriend, wife, daughter, sister, mom… you get the idea, It looks great on women. Just like the Steelers pink jersey the women wear.
Go out and buy a REAL (not chinese import) Pittsburgh Black and Gold Penguin Jersey and support your team and city!