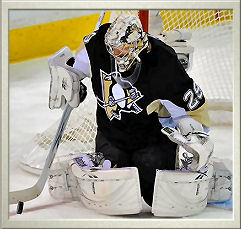 It's always nice to win a hockey game when you are not at your best.  Especially if it is Game 1 of the Eastern Conference finals.  As we have said many times, a solid goaltending performance can win you a hockey game.  That is what Marc Andre Fleury gave the Penguins Monday night.  Early in the first period, before the Penguins could get going, he made many key stops.  In the second period, when the Hurricanes dominated play for long stretches (even though they only had six shots) he stopped five shots to preserve the lead.  At the end, with the game on the line, he refused to let the tying goal get past him.  Test number 1 for Marc Andre Fleury – A+. 
The Penguins did enough offensively to win the game.  They will have to be better to win Game 2.  Carolina's strong two-man forecheck gave the Penguins problems at times, especially in period 2.  Coach Bylsma and his staff are going to have to find a breakout that can negate that pressure.  If they do, the speed of the Penguins' forwards will be able to control the game.  Odd-man rushes with all that skill will give the Canes defense nightmares.  This will not only give the Penguins scoring opportunities, it will also slow down the aggressiveness of the Hurricane forwards.  I believe this will happen and the Pens will head to Raleigh leading 2-0. 
That's the view from E-11. 
Note:  It was good to watch a hockey game that was almost entirely played between the whistles.  The game was highly competitive without those post-whistle scrums. 
Note:  The third line had a great game.
Note:  I like seven defensemen mainly because it makes our fourth line better.