Who would of thought that it was Brooks Orpik's return, not Gonchar & Talbot's, that would fire the team up for a nice win.  The Pens had a nice turn around from Thursday night's loss to the Senators.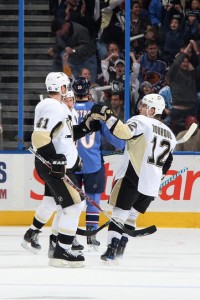 The first period in particular was very strong.  The Pens came out flying.  They had the Thrashers locked up in their own zone for extended periods.  This proved to be an affective strategy against the league's highest scoring team.  Even the most potent of offenses cannot score if they are stuck in their own end for much of the time. It was a good period.   The Pens, however, only managed a 1-0 lead. Some of the opportunities they had in that period were unbelievable. It was only some great goaltending by Hedberg and some missed opportunities that kept it from be a far more lopsided score.
There was a lot of good goaltending in this game.  It was an entertaining game to watch.  There were some good hits, a couple of fights and a lot of offensive action.  It kind of goes under the radar, but I believe there is some tension between these two teams.  I think it stems back to a game where the Thrashers beat up on the Pens and Kovalchuk got up Crosby's grill.  This game was very chippy and had the potential to get ugly.  A number of  Penguins took some liberties with Kovalchuk throughout the game.  Staal, Bourque and Cooke all seemed to take opportunities to mix it up with Kovalchuk.  It all culminated with Kovalchuk instigating a fight with Matt Cooke after Cookie tripped him up.  As it turned out, their most dangerous player was out for the balance of the game.
Notes:
The Pens got another powerplay goal to give them one in each of the last three games.  Whoo, are they hot now!  Something has to change with this powerplay.  Personnel has to change and, I think, the coach who is responsible for the power play must be changed.
Martin Skoula found the back of the net twice tonight.  One thing I will say about this guy, he shoots the puck at the net.  More of the guys should take a page from his book.
Fleury, who had a very good game, seemed to be particularly inspired to stop Maxim Afinogenov.
The Pens are missing some very good opportunities at an alarming rate.  I am not sure what to attribute this to, but I am hoping the trend ends soon.  I would really like to see them finish on a much higher percentage of their chances.
Good stuff tonight, now I look forward to an inspired effort Monday night with the return of Tyler Kennedy.