Wow, what a game!  What a night.  These Penguins played a very desperate game just as they needed to.  This was a true team effort.  On a night where both Crosby and Malkin were held off of the scoresheet and had only two shots between them, the rest of the team picked up the slack and put the game away.  Everybody chipped in with gutsy efforts.  Guys were giving up the body all night long.  The Penguins were credited with 20 blocked shots.  None were as evident as Petr Sykora's block of a Kris Draper shot in the second period.  They did the little things all night.  Of course it got interesting at the end of the game, but the Penguins came ouy of the dust with a 2-1 victory.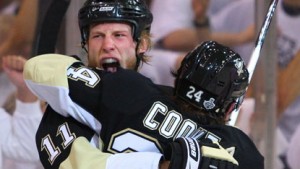 The people of Pittsburgh have been giving Marc-Andre Fleury a very hard time during these Stanley Cup Playoffs.  Sure, he had allowed some "soft" goals, but this kid is good.  Pittsburgh would not have made it to two Cup Finals in a row without him in the net.  Fleury was awesome tonight.  I hope this curbs the criticism.  
Pittsburgh very much dominated the territorial game tonight.  With the exception of a few extended shifts in the Pittsburgh zone, we had Detroit bottled up all night.  I remember looking at the scoreboard half way through the second period and seeing the shots on goal stat…….Penguins 21   Red Wings 7.  This puck control is great news.  I think the Pens can really build off of this.  The only problem with their control of the game was that they did not capitalize.  For all the time of possession they had in the first period (including two power plays), they did not get one goal.  It would be nice to see some more of their hard work manifest itself into goals. 
As it turns out, the Pens kept the pressure on for the duration of the game.  They had some great play in their own zone.  They played very physical.  They won battles.  They did the things they needed to do to win this very important game.
Notes:
 Kudos to the third line.  I have given them many props in this column.  Mostly, for playing a great game without getting on the board.  Tonight, they get all the scoring done.  Tyler Kennedy and Jordan Staal both with goals tonight.
Sykora looked pretty good for a guy who had not played in weeks.  He played just over 6 1/2 minutes and looked to have good energy.  He blocked a shot and had a couple of good checks.  We could use his shot in game 7.  I have not gotten confirmation, but he may have gotten hurt blocking that shot.
I am not sure how in a "do or die" situation that Crosby only ends up with 18 minutes of playing time and Malkin ends up with 20 minutes.  It is hard to argue because they won, but I think I would have had both those guys out there more often.
I like the momentum we have going into this final game.
How about when Hossa tried to run Talbot in the neutral zone and Hossa actually ended up on his neck.
This is it boys, we go for all the money on Friday night in Detroit.