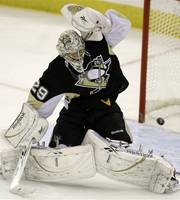 This is a tough loss.  Again the Pens played a better  game than the Capitals.  Again the Capitals get      away  with a win.  Again the superstars do their    thing:  Ovechkin with three assists, Malkin with  three  assists and Crosby going for a goal and an  assist.  This was another exiciting game from start  to  finish. This game was only as exciting as it was because the Penguins could not take the overwhelming momentum in the first period and translate it into a greater lead than 1-0.  The Pens  outshot the Caps 18-5 in the first period.  They completely owned the first frame. Unfortunately, they could not get more than one goal past Varlamov.
Varlamov, who is most likely the biggest factor in keeping the Caps in this series, was good, not great.  He made a lot of saves, but none seemed to be spectacular. The Penguins have been unable to finish plays.  They miss the net, they pass up shots all together or they pass on one-time opportunities or they shoot the puck into the goalies chest.  They had many golden chances in this game, but could not capitalize.
Since the Ovechkin hit on Gonchar, the Pens seemed to have taken their game plan in the opposite direction of what many may have guessed or hoped.  Instead of coming out pounding people (the natural reaction), they seemed to have toned down the physical play.  This appears to be a game plan implemented by Bylsma and crew.  I am not sure why this is the direction they have decided to go.  I am also not judging the decision at this time.
I thought it would be great to get back to watching games on FSN.  Finally, I would get the chance to hear some "homer" announcers.  But, after listening to Steigerwald and Errey for two games now, I find myself getting salty as they try extra hard to give credit to Washington.  I want to hear my hometown announcers favor my team.  Also, I don't know if I have become more sensitive to it because it is the playoffs, but Steigerwald says some of the dumbest things.  Maybe I am just bitter because of the loss.
Notes:
 Maybe the pivotal play in this game to me was Scuderi passing on an opportunity to pound Semin behind the net.  Having not been smashed into the boards, Semin took the puck behind the net and set up a play that resulted in a goal.
Fleury has looked better.  He will need to have his best effort in game 7.  
It was nice to see Letang use the one-timer to score his goal.
It will be interesting to see if Bylsma comes up with some new lines in lieu of the mixing he was doing tonight.  Will he he swap Cooke for Kunitz?
Let's hope that losing so many times when you have outplayed the opposition has not started taking it's tole.  
Game 7 should prove to be a match of epic proportions.  I may actually pass out from the excitement if that game goes as I feel it will.