Wooo Hoooo!
In my last game summary, I stated that Fleury had to have a big game for the Pens to win.  He only had to make one save to have the kind of big game that Penguins needed.  His save on Ovechkin's breakaway attempt set the tone for the entire game.  Whooo Hooooo!  Sorry, I can't stop.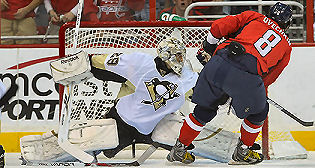 There is a lot to be said for tense, hard fought battles that go down to the wire, but once in a while I need my team to crush someone.  Tonight was a great time to do just that.  Finally, the Pens dominant play translated into scoring.  Tonight the boys were able to finish those plays they have been unable to finish thusly.
Notes:
How about the Penguins with no penalties in this game.  I am sure that Capital players, coaches, fans and owners will whine about this, but I think it was a result of two things: (1) I still believe the Pens coaching staff has pulled the reins in on the physical play. (2) The time of possession.  The Pens, once again, controlled the game.  When a team controls the game, the other team will take penalties while the controlling team is not in a position to take penalties.
How did the Caps keep Mark Eaton off the board while giving up six goals?
Whoooooo Hoooooo!
After seeing Letang's goal, I have to ask again, why does this kid not shoot everytime he can?
How awesome was it to see Gonchar in the lineup.  This had to be a tremendous uplift for everyone on the team.  He looked decent.
I was kind of surprised that Kunitz did not score.  It seemed everyone I talked to thought he would break out tonight.
Satan, once again, showing he can play.  He has four assists in four games.
Ovechkin played 21 minutes, but outside of a denied breakaway and a goal on a bad play by Fleury, he was seemingly invisible.
It was good to see Varlamov finally yanked from a game.  Let's give this kid credit, he was awesome.
The Capitals played a great series, but the better team won in the end.  I somehow think we will see this series again and again.
Sidney Crosby is THE MAN!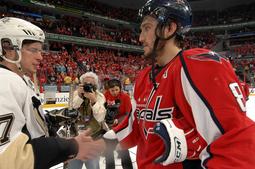 Okay, now it is on to the next round.  Here is to our boys doing it again; earning an opportunity to prove themselves in the Stanley Cup Finals.