So much for Carolina going undefeated in games that Eric Staal finds the scoresheet.  In the playoffs, until tonight, the Hurricanes were 7-0 when Staal scored.  Staal was responsible for the only goal Carolina could muster in this game. Unfortunately for him, he got no scoring support from any of his teammates on the way to losing the series in four games straight.  
Carolina showed signs of a team that wanted to win a hockey game. They outshot the Penguins, they out hit the Penguins and at times they dominated play.  Unfortunately for the Hurricanes, they don't have guys that can finish plays.  Marc-Andre Fleury had something to say about the lack of Carolina goals as well.  He was very good tonight. Even when the Canes had good scoring opportunities, Fleury was there to close the door.  After Fedotenko tied the game up, Talbot's fluky goal seemed to take something out of the Hurricanes.  Talbot's goal came with less that two minutes remaining in the first period and seemed to take it's toll on the will of the Canes.
For the second consecutive year, the Penguins have won the Prince of Whales trophy.  They did, however, handle the presentation of the trophy differently this year. Crosby, being of a superstitious nature, refused to touch the Whales trophy last year. This year he held the trophy, shared the trophy with Malkin and Gonchar and had pictures taken while he held it.  When asked why he changed his approach, he talked about the fact that they lost the Cup after taking the superstitious route. Touching the trophy may change the luck this year.  Let's hope that is the case.
Notes:
Max Talbot was awesome tonight.  He ended up with three points.  He was diving for pucks, hitting, grinding and generally doing everything he could to win.
Satan played another decent game.
The Pens were outshot for the first time in 13 games.
All you people who have been complaining about Fleury have got to give him credit.  He was great tonight.
I can't see how anyone can say Billy Guerin is too slow for Crosby after seeing him get his goal.
The forecheck was very effective.
Scuderi had a marvelous game.  He seemed to have his stick everywhere it needed to be.
And in a very special note: The Ticketmaster secret password for getting Detroit Redwing Home Stanley Cup Finals tickets – Ticket Master Code: PRERD4 – Enter the code in the second blank on the order form. 

Let's get some real support for our team while they are in Detroit.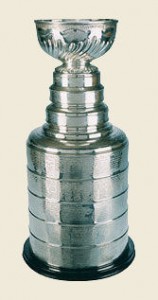 Let's go get the hardware!