If you scroll down the page a bit, you will see a post titled "When is Fleury Going to Win a Game?". Well, tonight was the night.  Fleury played awesome.  He was the primary reason the Pens got out of this game with a win.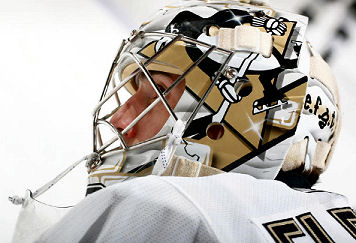 To their credit, the Flyers came out flying tonight.  They looked like a different team. Maybe it was the fact that they were playing in front of the home crowd, or maybe they were just looking for some payback for Tuesday night's beating, but the Flyers looked like a team hungry for a win.
The Flyers outshot the Penguins this evening.  Not an easy feat in itself.  Many of the shots they had were fantastic scoring chances.  They missed on a number of good scoring chances as well.  That's not to say that the Pens didn't play well. They had their fair share of opportunities as well.  Boucher also played very well.
It becomes apparent that maybe the Flyers just can't keep up with the Pens.  It is hard to imagine Philly playing much better; only to lose.  If the Pens power play continues to improve, it will be that much harder for the Flyers to compete.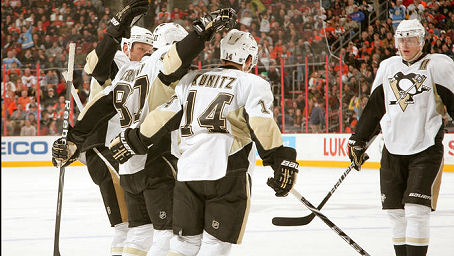 Notes:
Two power play goals tonight.  Maybe this experiment with Malkin on the point might work.
I don't think that Mike Rupp and Arron Asham like each other.
Kunitz gaining a little confidence would do amazing things for the offense. He passes up way too many opportunities to shoot.  With that said, I think he plays very well in the other aspects of the game.  I would just like to see him put a couple in, so he regains the confidence to shoot.
Three on three in the overtime just didn't seem to be as exciting as one might think.
Did you see the shot fake on Letang's shootout goal?
Good stuff in these last two games.