Once again folks, the Pens played a strong all around game. This time it was at the expense of the their division rival New York Rangers. I thought the Pens did not give up very many good scoring chances. The Rangers did get 3 past Fleury, but even those were not normally good scoring chances.
Sidney Crosby and Evgeni Malkin both had a point.  Crosby scored a fantastic goal, breaking through the Ranger defense before putting one by Henrik Lundqvist.  Malkin had one assist to drive his league high points total to 107.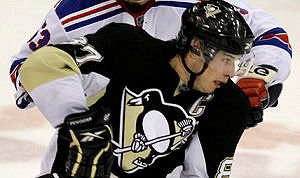 The big news was the other goal scorers.  Maxime Talbot had one, Matt Cooke had one and…………Ruslan Fedotenko got a goal. ? es, finally, his slump is over.  Does this mean he will go back up on a line with Malkin?
Notes on the game:
The powerplay was terrible. They seemed to lose sight of what they have been trying to accomplish on the PP. They were moving the puck back and forth, but not getting to the net. To many attempts at making cross-ice passes when they need to get shots on goal.
It was very cool to see Tyler Kennedy take exception to a play by Sean Avery and go after him to engage a fight.  It was not much of a fight, but I still like seeing TK take him to task.
Speaking of Avery, I thought the Pens abused him at every opportunity. 
Both Rob Scuderi and Brooks Orpik had an assist in the game.  Again, I have to stress what a difference Bylsma and his new system are making for everyone, especially our normally, offensively challenged?defense-men.
Let's go boys.