I have got to say, that was an exciting hockey game.  It had everything.  The stars were out, great plays, better saves, big hits, drama and a fantastic finish.  Unfortunately, the Pens come home down by two.  This game could have gone either way.  Both goaltenders played incredibly well.  Varlamov played a hair better.  He made some huge saves that changed the outcome of the game.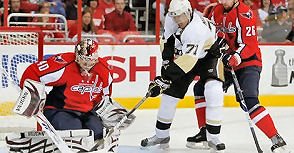 Fleury also played well.  He made some really big saves.  He missed one shot (that I think he normally makes) and the game is all but over.  Not that this game is in any way Fleury's fault, but I think the rookie goaltender, with no real NHL experience to speak of, was better.
Again, a penalty was the momentum changer.  After the Pens failed miserably on a power play, Malkin takes tripping minor (albeit incidental).  Ovechkin scores almost immediately on the ensuing power play.  Now, it is an uphill battle.  The Caps have all the momentum and the Pens must play come back.  By the way, the reason Ovechkin had such an open shot on that goal was because Matt Cooke was tripped as he tried to get to the point.
That brings me to the next point.  What was up with the officiating.  I felt that was a poorly officiated game.  In addition to the missed call on Cooke (directly leading to a goal) they bought Ovechkin's dive on the "jump ball" with Kunitz.  There were other questionable calls to be sure.
Again, I thought the Pens played very well 5 on 5.  They once again outshot the high-flying Capitals.  The Pens came out with some big hits.  The team was making things happen.  If not for some timely saves by Varlamov, things would have been much different.  They power play, though accounting for 2 goal, was again terrible.  How can these guys not just shoot everything at this point.  I hate to be that "SHOOT IT" guy, but it is a problem.  Christopher Letang is so hesitant to shoot.  This guy has a ton of skill and a great shot.  Why does not use it?  Bylsma or Yeo needs mix the power play more. Exchanging Guerin for Kunitz does not mix it up enough.  Break up Crosby and Malkin and make two potent units…..something has to change.  These guys are playing too long on the PP anyway.  Separating them may keep them fresher.  The PP will be critical from hear out.  It needs to be more effective.
Notes:
I have mentioned this before in this column, but why does our defense give every oncoming winger so much respect.  The perfect example being on Ovechkin's 3rd goal.  Gonchar backed up from outside the blueline to the area between the circles.  This allows Ovechkin to get a great shot on goal using the retreating Gonchar as a screen.  Again, I understand that you don't want to get burned, but if your in the guys face, he does not get off a good shot.  Gonch is not the only one guilty of this.  Even in short-handed situations they back in too far.
I thought Guerin and Kunitz looked better today.  Even though Crosby got all the goals, I thought those two were shooting more and making some things happen.
When are the other 10 forward going to chip in with a goal or two?  Crosby and Ovechkin were tied, but Washington got some help from a less expected source. That was the difference.  If the Pens struggling, top two line wingers score or anyone on the third or fourth line scored, we would be in good shape. 

I saw a great deal more East/West hockey today.  I would like to see them get back to a more North/South style.
Somehow, I still feel good about the series.  They just need some timely scoring and they can even this thing up. Let's go Pens!