Give the Flyers credit.  They came out with a new approach.  They played a disciplined, hard fought game……….for about 50 minutes.  When the game was on the line, the old Flyer mentality kicked in and they made some bad decisions.  They took some penalties that resulted in a loss and a trip back to Philly down 2-0.
Fortunately, for though of us who support the Penguins, they made the Flyers pay for their undisciplined hockey last night.  The  Pens capitalized on two power plays.  One to tie the game with less than five minutes remaining, the other (a two man advantage) in overtime.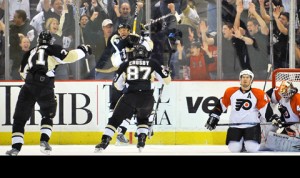 The Pens came out hitting hard and often.  The Pens were credited with 50 hits to the Flyers 29.  Again, some of the hits were bone crunchers.  Brooks Orpik was a one man wrecking machine, registering 14 hits by himself.  He looked as though he was on a mission to smash everything.
Notes:
Petr Sykora was again held off the score sheet.  It is time for Sykora to turn it up a notch.  We need him to score some goals, perhaps one of those "big" goals we've come to count on.
Marc-Andre Fleury made a save in the second period that could be on the level of Frank Pietrangelo's "the save".  This could have been the single biggest factor in the Pens win.
Though there were not nearly the "cheap shots" in this game compared to game 1, I thought the officiating was worse.  The referees seemed to blatantly overlook some things.  I am not just saying things the Flyers did.
Game 2 was a very hotly contested game.  It looks as though this series is going to be a good one.  I don't think there will be any 6-0 games.  We can all look forward to watching an intense series.