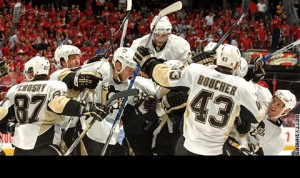 In the previous four games of the this series, the team that has scored first has lost.  The Pens changed that today.  The Pens did score first but also won the game.  The Penguins did not have the early let down to get the juices flowing tonight.  It took them two full periods to get their groove.  The overall play was as bad as it has been for the first two periods.  Even though they got the early lead, I never felt good about how they were playing.  Washington dictated the play most of the game.  The Pens had trouble getting the puck out of their zone for much of the first tow periods.  When Pittsburgh came out for the third period, they seemed to find their groove.  It took the overtime period to finalize this game.  Pittsburgh got a fluky goal in OT that went off a defensmen's stick.  Though it was fluky, this goal was a result of hard work.   
Varlamov bounced back admirably from a subpar game the night before.  He made 38 saves in the loss.  I would say he played very well.  There was speculation that the Caps may go to Theodore for game 6.  I don't see that happening.  He played well tonight.
Malkin's parents are becoming the quite the celebrities.  It is wonderful to see how excited they get at the games.  They are very proud of their son.  The city seems to have embraced the two.  It is a great story……the Malkins.
Notes:
 I must say that I found it hard to believe that the Pens did not get more physical with the Capitals in response to the Gonchar hit.  In fact, the Caps out-hit the Pens all night.  
It was great to see the third line have a great game.  They have been taking some heat throughout the course of this series.  I was glad to see them get it together.
Fedotenko continues to impress.
Satan continues to impress.
Have you ever witnessed a game where the referees disappeared the way they did tonight. 
Here is to sawing the Caps off Monday night in Pittsburgh.