So, this current road trip has not been the most sparkling period in this young season. The Pens lost two games in regulation for the first time under Bylsma's tutiledge.  In Boston, they made it three in a row.  They won the first game against a struggling team in Anaheim, they were pretty well outplayed in LA and lost horribly to the Sharks.  The Pens played better in Boston, but were unable to even score a goal as they lost 3-0. 
I have to say that although they were outplayed quite a bit, the Pens missed on many golden scoring chances throughout this road trip.  Guys are making great plays to get scoring opportunities, but have failed to capitalize on alot of these chances.  I hate to pick on one guy for this lack of finishing touch, but Billy Guerin has, probably, been the most guilty of failing on these opportunities.  He most likely stands out the most because we expect him to finish more often than not.  Again, he is not the only one guilty of this.  I think that this is just a phase and eventually, the Pens will start capitalizing on these chances.
Certainly, the injuries have played a huge role in the Pens lackluster play over the past four games.  When your roster is missing the likes of Gonchar, Malkin, Kennedy, Talbot and most recently Letang and Orpik there is going to be a drop in performance.  It has been disappointing to see some other members, who we could and should expect to step up, fail to do so.  Crosby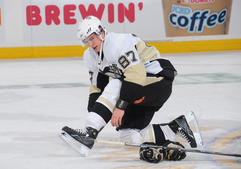 has gone five games without a point.  This is when we need him to take his game up a level.  When Crosby was out with and injury last year, Malkin found another gear and kept the team rolling.  It seems like this would have been an opportunity for Staal to really shine, but he has not been able to put up any significant numbers.  Again, I don't mean to say these two guys are the sole problem.  The lack of scoring during this stretch runs the whole way through the roster.  The good news is that once we start to see some of these injured players return, things will get back on track.  
The power play simply sucks.  The coaches need to do something to mix the power play up.  Honestly, I hate to be this guy, but "shoot".  Especially with the personnel that are missing from the lineup, they need to simplify what they are doing and get pucks to the net.  This starts with Crosby.  Though he is an amazing passer, his passes are less effective when the other team knows he most  likely will not shoot. 
Though they showed some more energy tonight, I think there hustle has been substandard over the past four games.  Maybe they have the flu running through the locker room or some other thing, but I would like to see some more grit.  I love the fact that the Pens system features a very aggressive forecheck that has made exiting the zone very difficult for many teams this season.  I have not seen that recently.
Why is Chris Bourque taking a regular shift with this team?  He was picked up just hours before the drop of the first puck of the season and has become a regular skater for the Pens.  I am not saying he is horrible, but I don't understand how he leaped over everyone in Wilkes-Barre on the depth chart.  It is not like he came hear holding a sparkling resume.  Is this Mario doing a solid for Ray Bourque?  I just think that we should give the opportunity to someone who has been here and put some time in.  We have some nice players in the system who could possibly bring a scoring touch to a team that deparately needs one, right now.
Here is to some guys getting healthy in a hurry.