A handful of things came out of this game.  I believe, after witnessing this game, that there is now some hatin' to do.  The Hurricanes, after they had gotten out of the game, decided to take the physical play to a different level.  They were taking runs at guys after whistles, cheap shots and whatever other liberties they thought they could get away with.  This really seemed to aggravate the Pens.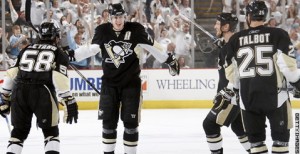 Heck, if Miro Satan is fighting, then something has gone terribly wrong.  It would appear the Penguins may have found the catalyst that they needed.  Everyone has been looking for some sort of angle in this series.  This could be it.  In the first series there is the heated rivalry between the Pens and Flyers.  In the second series there was the theater of Ovechkin vs. Crosby or Malkin or Semin spouting off about Crosby or whatever.  Now, we might have something here.  Have the Canes not learned that pissing the Penguins off is a bad idea.
This was a quick, back and forth game at the beginning.  The Pens and Canes traded scoring in a pretty rapid fashion.  It wasn't until the Penguins seemed to get angry that they took over the game in the third period.  More to the point, Malkin

took over the game.  A lot of credit has to be given to Malkin.  He decided after getting into a tussle that he would like to win this game…….and he did.  He gave another remarkable performance tonight.  He had three goals and an assist tonight.  He was amazing.  His numbers tonight allowed him to jump over his teammate, Crosby, for the playoff scoring lead.  Malkin's parents were happy. 
I was not at the first game, but it was said that the crowd was less than enthusiastic.  Tonight's crowd seem to get that message and pick up their collective game.  I thought that the arena was electric tonight.  The crowd was loud and supportive all night.  Even when the Canes took the lead, I felt the crowd showed support and positive reinforcement for Penguins.  After the game, it was downright crazy.  People in their cars were screaming and yelling as they drove by.  People walking up the road were "high-fiving" others in their cars.  It was great.
Notes:
 It would not be a hard argument to make, judging by the officiating, that the league wants this game to go longer.  In lieu of the recent events (Cooke's hit on Cole) it is hard to complain about the referees, but I am gonna, just the same.  Particularly in the third period, I thought that the Carolina players were taking some liberties.  There was very little (in comparison) called.  The Hurricanes got away with quite a bit. 
Gonchar looked very good tonight.  He seemed less hesitant, in my opinion, than in game 1.
Did you see the game Malkin had?
Yahoo…..Kunitz is on the board.  This guy has been playing hard the whole time.  I am glad to see him get this goal.
Though it did not appear Fleury had his best game again, let's remember one thing, this guys does one thing for sure……win.
Props again to Satan.  Though, he did not get on the scoresheet tonight, he contributed in many other ways, including a fight.  I would like to see how he would have done under Bylsma's system for a whole season…..just saying.
In my estimation, Chad Larose is perhaps the biggest threat in this series.  He has scored in both games.  He plays very physical.  He is in the face of our big time players.  He needs to be put in his place.
How about having 11 total goals and not one on the power play.
By the way, it is being reported on NHL.com that Chuck Fletcher is moving on to Minnesota to become the second GM in the Wild's short history.  Read the article at NHL.com.
Great job to our beloved Penguins tonight.  Here is to hoping for two quick victories down south.