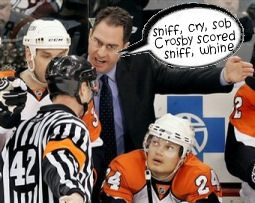 Philadelphia Flyers fired their coach John Stevens.  I guess maybe the GM would like them to have a playoff spot.
 As a matter of fact, 3 of the 4 teams the Penguins ousted from the playoffs last year would not be in the playoffs right now if the playoffs started today.  Detroit, Philadelphia and Carolina are all below the Mendoza line.  The Hurricanes have completely fell apart, Detroit has lost their scoring in the off season to trades and Philadelphia has the same old goaltender trouble.  Washington is the only team we faced that has a playoff spot.
The Capitals have won 5 of 7 or 71% of their games without Ovechkin in the lineup. With Ovechkin in the lineup they have only won 61% of their games.  For an even bigger example of what Ovechkin brings to their lineup I'll toss in the fact that they have scored an average of 4.14 goals a game without him, 3.46 goals a game with him.  He is like what Terrell Owens has brought to all of the teams he has played on.
Hossa is back in the 'Burgh for Saturday nights game and I don't care.  I combined my hatred for him for screwing us to go to Detroit after we lost in the finals with my happiness that he screwed Detroit after they lost in the finals by signing with Chicago.  Now I just don't care.
This just popped into my head, the Mario Lemieux game in which he scored a goal in all five conceiveable ways, the even strength goal, the power play goal, the shorthanded goal, the penalty shot and the empty net goal.  What about the overtime goal and now the shoot out goal?  It is actually possible to get 6 kinds of goals in a game.   The closest to Lemieux's 5 different was the Flames Jarome Iginla who had a power play goal, a shorthanded goal, an even strength and an empty net goal.
The Penguins Placed Chris Bourque on waivers.   We are wondering here at Penguinpoop why he was on the powerplay if was that close to going on waivers …  
Captain Crosby's 11 point tear the last three games has moved him up into the 3rd spot in the scoring race behind Joe Thornton & Marian Gaborik.  Crosby's 19 goals is tied for second.  I wrote a post called Crosby Can't Shoot back in September and suggested that all of Crosby's goals came from within 5 feet of the net with a video to prove it.  Crosby has definitely learned how to shoot and is now firing the puck long range and scoring.  I don't know if he just started to practice his shot or if it is his new stick, but in Thursdays game the fact that the goaltender had to respect his shot allowed the pass to Guerin for the game winner.