Marc-André Fleury celebrated his 25th birthday on Saturday by getting his 126th NHL win. Everyone who is keeping track (me & Marc-André's mom) is aware that 126 wins is 7 wins more than NHL all time win leader Martin Brodeur had the day he turned 25. Congratulations & Happy Birthday.
Eric Godard is the Penguins go to guy on the power play. Have you ever noticed that when the Penguins are in the midst of a blowout and they get a power play they put Godard on the ice and keep feeding him the puck. I guess you'd look like an idiot if you fought Godard for running up the score.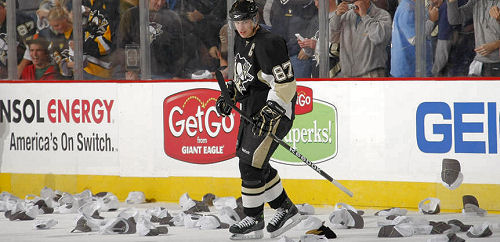 Sidney Crosby had something Mario Lemieux never achieved, a hat trick on hat night. Quite an awesome spectacle if you ever happen to witness one live.  The last Penguin to have one was Jaromir Jagr, and I believe it was Jagr's last hat trick for the Penguins. If you are wondering where all the caps go after they scrape them off the ice you can click here:   Where Do the Hat Trick Hats Go?
Matt Cooke finally was back on the scoreboard Friday against the Islanders and had 3 goals and 2 assists in 6 games, things were looking up, he even got to be interviewed between periods. Then against the Rangers Saturday he plowed into Artem Anisimov. Now Cooke has been suspended two games.
Sidney Crosby had a five point night on Saturday which booted him up to eighth in the NHL scoring race.  Which brings me to this question:
[poll id="5″]