With the?3PM March 4th trading deadline looming, we thought we would make an interactive easy to follow list of the most notable players mentioned in trade rumors by respected journalists (sorry Madden) and a list of the Pittsburgh Penguins most likely available.
Keeping in mind that all of the Penguins are available for trade, you will most likely not see Crosby, Malkin, Fluery or Gonchar parted with.? Also Sykora will most likely be staying because of his value on Malkin's line and the fact we are looking for another just like him for Crosby's line.? If we trade him we would need to get two of him back.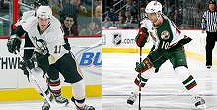 You will notice that you do not see Jordan Staal's name on our list of most likely not traded.? He is available, and for an incredible return I'm betting Shero pulls the trigger.? Three more that have seen their value on Penguins decline in the last few months are Max Talbot, Ryan Whitney & unfortunately Kris Letang.
What everyone has on there Christmas list for the Penguins is?a scoring winger for Sidney Crosby.? So in our list below you will find our most likely candidates, and the most mentioned players in trade rumors.
You can click on the players name to read their lifetime stats & NHL.com profile.
Favorites for the Penguins:
Nik Antropov?– 29 year old – 6 foot 6 inch tall?- winger from Toronto (would not only be great on Crosby's line but also in front of the net on the power play)
Erik Cole?– 30 year old – 6 foot 2 inch tall – winger from Edmonton (gifted fast winger for Crosby's line, not the most proven of the bunch)
Olli Jokinen?– 30 year old – 6 foot 3 inch tall – center from Phoenix (gifted player, could play wing?or fill in at center)
Marian Gaborik?– 27 year old – 6 foot 1 inch tall -?winger from Minnesota (extremely gifted player, though injury prone, adding a player of this quality would solidify the Penguins as the top offense in the NHL – this trade would probably require Staal)
Colby Armstrong?- 26 year old – 6 foot 2 tall -?winger from Atlanta (would be a "keep Crosby happy" trade)
Martin St. Louis?- 33 year old – 5 foot 9 inch – winger from Tampa (probably not the best fit, but his sniper ability sure would help Crosby – he has a no trade clause but also hasn't missed the playoffs in 9 years – this would be good if we didn't have to give up much)
Other possibilities:
Keith Tkachuk, Dustin Penner, Petr Prucha, Chris Kunitz,?Antoine Vermette, Matt Stajan, Jason Blake, Doug Weight, Bill Guerin, Mike Comrie, Brendan Witt, Jonathan Cheechoo,? Vernon Fiddler
Other names mentioned:
Vincent Lecavalier, Tim Connolly, Ray Whitney, Pavel Kubina, Tomas Kaberle, Scott Niedermayer, Chris Pronger, Jay Bouwmeester
Most likely movers for the Penguins:
Ryan Whitney,??Maxime Talbot, Miroslav Satan, Mark Eaton, Michael Zigomanis?and since they just called him up from the baby Penguins, lets toss Janne Pesonen?in the mix.
More possible movers:
Kris Letang, Jordan Staal, Philippe Boucher

PenguinPoop rates the?best trade move?to be Ryan Whitney?& Michael Zigomanis?(a native of Toronto) for Nik Antropov.? It gives?the Leafs a?future defenseman to build on, plus a native Toronto player to appease the fans. We get?a big winger for Crosby's line.? A win-win for both teams.
What we would also love to see is some sort of Jordan Staal/Marian Gaborik? trade.?
Don't be surprised to see any 3rd/4th liner (like Maxime Talbot) and/or a baby Penguin?go for Colby Armstrong?.
If you thought it was anything goes last year, this year could and should?be bigger.