10 Penguin games ago the Pittsburgh Penguins traded Ryan Whitney to the Anaheim Ducks for Chris Kunitz and Eric Tangradi.?? Since making the trade the Penguins have not lost a game in regulation and are 8-0-2.??The Anaheim Ducks who are a little slow,?only played seven games since the trade, they have only won two of their last seven with Whitney in the lineup.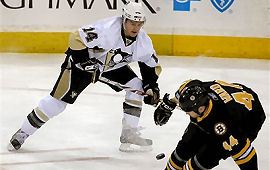 Whitney & Kunitz were not the only moves the two teams made around the time of the trade, the Penguins got a new coach and added another winger, and Anaheim made many, many trades.? So we are going to have to judge this on individual effort.
First off lets get Tangradi over with.? Eric Tangradi was suspended for who knows how long for throwing water bottles at a referee.? He is rated as a prospect the could jump the AHL and go straight into the NHL.? I wouldn't have a clue how to rate this part of the trade, so let's just call it even.
Chris Kunitz on the other hand has 6 goals and 6 assists in the 10 games he has played with the Penguins.? He has proven himself to be extremely valuable in front of the net,? looking like a Ryan Malone with a scoring touch.? Since joining the Penguins, his shooting percentage is 31.6%, and he looks to be the winger the Penguins have long sought after for Crosby's line.? His ability to obstruct the goaltenders view on the power play is something the Penguins have needed for a long time.
Ryan Whitney has played 7 games for the Ducks and has put up 3 assists.? Defensemen are usually not judged on points scored, but on their plus minus.? Whitney is currently a plus 2 for the Ducks, a considerable improvement considering he was a minus 15 for the Penguins.?? Whitney has also seen considerable time on the Ducks power play and has not registered a point.
While only time will tell with these trades, it is good to know that Kunitz is signed for a few more years and the Penguins will not have to deal with trying to sign him come summer.