Congratulations to Mark-Andre Fleury for being honored with the NHL's #2 star last week.? Hopefully he continues his great work in net tonight.
Jason Spezza got caught with an illegal stick last night and when called into question he broke it and threw it on the bench to try & hide it.? Whomever goes up against Washington in the playoffs should do the same with Ovechkin, watch him with 3 minutes left in the last game, he goes to the bench and gets a new stick with a bigger curve.? Ovechkin's stick is illegal every game, might as well call him on it, just watch for the stick change.
Luca Caputi and Jon D?Aversa have been called back up to the WBS Penguins. Caputi had two goals and an assist, and D?Aversa had two goals and two assists, in three games with the Nailers. ?I think the point?s been proven,? Reirden said, the players worked hard and had the right attitude. I bet it was quite a Birthday party!
At some point the Habs owners will figure out that their problem is Bob Gainey. Gainey relieved Guy Carbonneau of his duties as head coach and will be taking over for him.? This is a case of Gainey putting together a horrible team, not poor coaching. I'm calling it now, another first round departure for Gainey, if he makes the playoffs.? I guess seeing Bylsma turn the Penguins around has got him all excited to coach again.
Sykora, with his upper body injury, is scratched again tonight?and Dupuis has been moved up to Malkin's left wing.? The?three lines look like this:? Dupuis-Malkin-Fedotenko? Kennedy-Staal-Cooke?? Adams-Talbot-Godard.? You know what the first line is.
Replacing Sykora with Pascal Dupuis for a home game is a good idea considering Dupuis and Sykora are both homers.? 82% of Sykora's goals have came at home, 78% of Dupuis have came at home.? Malkin is quite the opposite getting only 38% of his goals at home.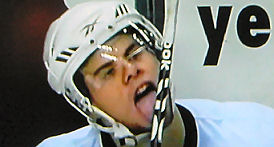 Will Kennedy lick his stick again?? Last time he got 2 goals against Florida.? He didn't lick it in Washington and got zilch.? "I might have to start licking my stick all the time now" Kennedy said. Lets just hope he does it in the privacy of the locker room.? I guess if you can do it…?? Game Time 7:30 Tonight.