Roenick in January claimed:
"I see too many kids going the wrong way. They don't have the respect or the know-how to treat the sport  even Sidney Crosby. You see him bitching, whining and crying. He's supposed to be the poster boy of our league and yet every time he gets hit, he's grimacing and complaining to the referees. Veterans teach the kids the right way to play."
For more on the Crybaby click here:  "Big Crybaby"
Yesterday it was this:
I think a Sidney Crosby interview is as boring to watch as possible. As great a hockey player as he is and as much as he's taken this league by storm, I don't think he goes on a limb and says what he really feels. I think he?s too quiet, too hum-drum, too cliched. I love the kid as a hockey player, but I think he can be more spectacular if he steps up and shows a little personality.?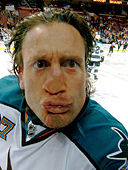 Anyone that knows anything about Roenick has to realize, in the dictionary under the word JAGOFF is Roenick's picture.  See – Pittsburghese – JAGOFF
Roenick is finished and really, quite frankly without his "un-boring interviews" no one would know who Jeremy Roenick is. He's a Dennis Rodman who really and truly might find a role on Celebrity Apprentice someday with another plugs for hair phony, Donald Trump… but as a hockey player he really doesn't even understand the game anymore. Roenick has always been about Roenick.
First Roenick mocks him about being too vocal and now it's tooboring… you have to wonder if Oldtimer's disease is creeping in on Roenick.
The bottom line is that Crosby (like him or not) is second in scoring while playing most of the year with line mates like (Satan, Cooke and Dupuis) who admittedly are (better than Roenick) but not THAT much better than Roenick.
While Roenick thinks hockey is played behind a microphone is isn't… it's played on the ice some where the senile JAGOFF Roenick who collects paychecks he hasn't earned for half a decade doesn't see much of anymore.
Crosby has more points this year than in Roenicks last 4 years. Gosh, Pascal Dupuis has over three times as many goals as Roenick this season. Crosby's Hart, Pearson, and Ross at the age of 20 is what does his talking while JAGOFF Roenick has won nothing in his career except?his the rep.
This is the Roenick who told fans to 'kiss his butt' while he whined and moaned about making millions and he now continues to babble-on with meaningless BS… he is clearly the JAGOFF of the WEEK and my nominee for OVERHILL JAGOFF of? THE YEAR.
This is DR Hook,  carry on