Ryan Whitney is heading back to play the Detroit Redwings in the playoffs. With the Anaheim Ducks knocking off the first place San Jose Sharks last night Ryan Whitney has a chance to enact some revenge on a team that ruined his chances to raise the Stanley cup above his head. "We're not an eighth seed, Everyone in here knows that and now everyone else sees it, too." Whitney said last night.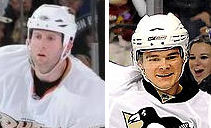 I'll be one of the first to admit that I was on the get rid of Ryan Whitney bandwagon, along with the people that harassed him at the arena and at his own apartment building. Ryan Whitney was not playing up to the 4.5 million dollars a year that was being spent on him, and that is fact.
Ray Shero traded Ryan Whitney for winger Chris Kunitz and prospect Eric Tangradi. How's that trade looking now? 6 games into the playoffs for the Ducks Whitney has four assists, last year for the Penguins he had 6 total points in 20 games. Kunitz only has 2 assists in 6 playoff games and Tangradi is missing the rest of the season because he sliced his hand in the last game of the season with his OHL team.
While the Whitney/Kunitz trade was the right thing to do, it could end up as a poor trade on paper for Ray Shero, sort of like the Marcus Naslund trade was for Craig Patrick. It was a trade that needed to be done. Whitney is being tutored by Chris Pronger very similar to the way Naslund was taught the ways by Mark Messier.
If Ryan Whitney didn't have a following here in Pittsburgh before he left, I'm willing to bet there's a few more people jumping onto his bandwagon now in hopes he and the Ducks knock off Detroit.