There are four series left in the march to the Stanley Cup.  It is safe to say that the spotlight will be on the Penguins vs. the Capitals.  The other three match-ups are all interesting and should be exciting to watch.  But the prospect of putting Crosby, Malkin, Ovechkin and Semin on the same sheet of ice conjures up visions of some very entertaining hockey.  This leads us to ask these questions — How will the superstars perform in this series?  Will the play of the superstars determine the outcome of the series? 
Semin is a tremendous hockey player.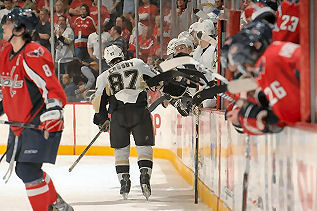 He was off to a great start.  An injury set him back, but he recovered and finished the season strong.  We can expect him to play well, but I don't think his play alone can determine the outcome of the series.  Ovechkin — two years running MVP (?).  We can expect him to have a great series, but his impact will not be enough to swing the series in the Capitals' favor.  Ovechkin is a great individual talent.  He does not necessarily make the players around him better.  He might have an outstanding series, but not enough to put the Capitals in the Eastern finals.  Malkin is really looking forward to this match-up.  He hears the rumors that Ovechkin is going to be the MVP.  Although he can't do anything about that voting now, he is going to be excited to show the NHL his value to the Penguins.  He can do it alone.  He makes his teammates better.  His talent can lead his team to victory.  Crosby is still the best player in the world.  He always seems to be at his best on the big stage.  He also wants to show the world his value to the Penguins.  He absolutely makes everyone around him better.  Crosby and Malkin will get the power play going in this series, and that will be a factor in moving on to the Conference finals. 
That's the view from E-11.