John Tavaras, is the Mario Lemieux or Sidney Crosby of this years draft.  This guy has every team who is no longer in playoff contention trying to pull an "Eddie Johnston" to try and get more lottery balls. How good is he? He just broke the long standing OHL scoring record of 213 goals held by ex-Penguin Peter Lee since 1977.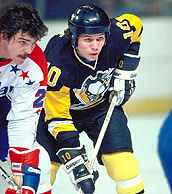 What is at controversy is the amount of goals Peter Lee had. Right now there are people sifting through every box score of Peter Lee's to see if he scored more than the 213 that is currently listed in hockey databases. According to the Ottawa 67's media guides Lee's record was 215, but looking at his goal totals in the program the numbers add up to 216.
"We are talking about 33 years ago now, It is not like I carry all my old clippings around with me. It is not like I can go back and count every goal.", said Peter Lee"But you do sort of notice things, and I thought I actually had 27 goals and not 25 the one year. But to be honest, I never really thought about it."
Tavaras ended the regular season at 215 goals so if Peter Lee is correct about his 27 goals, then they would be tied for the record. If the goal totals in the program add up correctly, Lee is still the record holder with 216.
Peter Lee played for the Penguins from 1977 to 1983, had two thirty goal seasons and 114 goals total. He was part of the trade that sent Pierre Larouche to the Habs and the Pittsburgh Penguins were the only NHL team he has ever played for.  He is now GM of a hockey club over in Germany.