If your a Pittsburgh Penguin fan like me, your email box has been inundated with the Alexander Ovechkin at a strip club picture with receipt and all.  It can also be seen on Tim Benz 105.9 the X's page:  click here:  'Tim Benz Page'.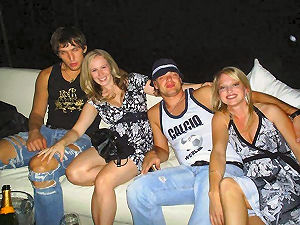 A picture of the receipt is also at the bottom of this page.
The problem is not how much Ovechkin would have spent at the South African strip club known as 'Teazers Rivonia' because the total is actually in the South African currency called 'Rands' which at the time would have been converting at about 8.6 rands per dollar, and with Ovechkin's $124 million dollar contract, I think he could afford it even if it was dollars. The problem is the date on the receipt.
The date on the receipt is March 17, 2007 – St. Patrick's Day. Ovechkin had a game at 7pm the night before when he went scoreless yet his team beat the Toronto Maple Leafs 5-1. Ovechkin also had a game at 1pm in the afternoon the day after against the Tampa Bay Lightning in which his team won 7-1, in no thanks to Ovechkin who was once again held scoreless.
If Ovechkin finished his Toronto game at 10pm and somehow got out of the locker room and to the airport and took off by 11pm, which in itself would be amazing. He would have then had to have taken the non-stop flight to South Africa which takes over 17 1/2 hours and rush to the Teazers Strip Club which is only thirty five minutes away from the closest airport and do all the fun stuff on the receipt for at the most 1 hour, hop back on the Jet for 17 1/2 hours and make it back to the rink 1 hour before game time while missing the morning skate.
Just in case you think that there's an ounce of chance that the photo and receipt are from a trip to South Africa on that date,  the other person in the photo with Ovechkin is Montreal Canadien defenseman Andrei Markov who played a 7pm game on March 17, 2007 and beat the Toronto Maple Leafs in a shootout 3-2.
I should work for Snopes.