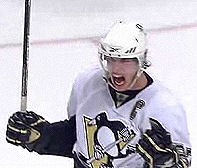 We said from the start that the Penguins were the better team.  The better team won the series.  Even though the Flyers don't think so.  They say that the better team didn't win.  I'm glad that they think that way — that would lead them to believe that they don't need to get any better.  Two out of three at home and two out of three in Philly.  The Penguins advance to Round 2 – opponent yet to be determined. 
To win a series you need everyone to contribute along the way.  Fedetenko – first goal of the series.  Eaton — an unexpected second goal.  Gonchar – first goal of the series and by far his best game.  Talbot – responsible for the first Flyer goal takes it upon himself to change the momentum of the game.  Eddie O called it at the time.  Eddie said Carcillo should not fight Talbot in that situation.  The Flyers had everything going their way.  Why do something to change that?  But Carcillo couldn't resist the chance to show off his pugilistic skills.  (Too bad for him there's no column for that on the scoreboard!)  You could see the change in attitude on the Penguin bench instantly.  Malkin started flying all over the ice, and Fedetenko started the ball rolling the other way.  Eaton kept it rolling on a great three-on-one break, and the Captain tied it when Biron couldn't glove a soft shot.  Shortly into period three, Bylsma seized an opportunity to get Malkin and Crosby on the ice together.  Gonchar was the recipient of a great drop pass and lasered one past Biron.  The Flyers had a couple of chances after that, but you could tell that they were gripping their sticks too tightly.  Sid stole the puck at center and scored the empty netter in spectacular fashion giving the Flyer fans all summer to think about how bad 'Crosby sucks'.  Pens move on and the Flyers go golfing. 
That's the view from E-11.