The most annoying and tiresome phrase used in the NHL is 'Let Them Play'. This phrase is used by ex-players and by washed up ex coach hockey analyzers non stop. I'm not sure exactly how many times Mike Milbury, Barry Melrose and Pierre McGuire used the phrase during Sundays NBC telecast of the Pittsburgh Penguin – Philadelphia Flyer game, but it was starting to hurt my ears.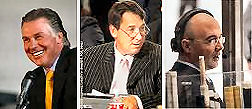 The main problem with the phrase is that when it's used by these guys that can't get and hold a job coaching because of their antiquated ideas, is that it means exactly the opposite of what it sounds like. What they are asking for is that the referees to turn a blind eye towards the clutching, grabbing, hooking, holding, interference, and other small penalties that they call "nickel dime" penalties, another phrase that they use too many times.
Not calling of these penalties would cause the game to revert to the stone ages of the late nineties when scoring titles were won in the double digits. The NHL has finally got the game moving at a better pace where we are able to see fantastic playmaking, unbelievable moves and just plain more scoring.
The NHL is upon a new era, the average attendance has been steadily rising the last four years and could possibly beat the NBA next year. The new 'Winter Classic' and the more enjoyable to watch hockey has gotten the TV ratings to also improve steadily. The NHL also has great opportunity for this to get better and better with the rise of three young superstars Sidney Crosby, Evgeni Malkin and Alexander Ovechkin. You could maybe a throw in a fourth, John Tavaras who most likely will be joining the perennial lowest attendance team who just happens to be in the NHL's largest TV market, the New York Islanders.
To truly 'let them play' you need to call all of the penalties all of the time all the way up unto the final second of the game, whether playoffs or regular season. 
So during Saturdays 3PM NBC telecast join with me in stopping the people who use this phrase to ruin our game, every time you hear the phrase "let them play" say to yourself, no, say it out loud "old washed up has-been who's trying to ruin hockey" Be sure to read my next article on how you know that a print Journalist or blogger has an unskilled hockey team just because they use the phrase 'let them play'.  I will include my drinking games: Chug every time they say 'let them play' or my 'Nickel Dime' version of the fun drinking game 'Quarters'.