I know what your thinking, this Krundle guy is a complete idiot. Believe me, I have heard it before, but there is a method to my madness.
The NHL has been groundbreaking on many things. In 1918, thanks to Lester Patrick, the NHL had instituted a playoff system. Baseball and Football didn't start using a playoff system until the 60's. The NHL was also the first of the MLB, NBA, NFL to use uniform numbers for easy identification of the players.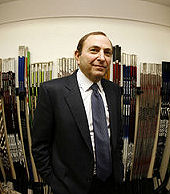 I'm going to keep this simple, and let the NHL lawyers and the Player Union lawyers sort out the complicated details of the contract renegotiations and the players post-rollback salaries.
Right now the NHL unfortunately ranks fourth in the four major league sports in the United States. Ranking first by a large margin would be football and the NFL. What the NHL needs to look at is what makes football so popular.
Aside from the hitting and the great action of the sport, both of which hockey has, football has a great fan base and being from Pittsburgh, I can tell you that I would be hard pressed to find someone that couldn't name at least 10 Steeler players. At the same time I would be hard pressed to find someone that could name 10 Pittsburgh Penguins, let alone who the Penguins just traded for.
What I have noticed is that as much as I follow football, I seriously cannot name 1 trade that the Steelers have made. I?know that they have gotten players from other teams at times, but it is very rare. What football mainly relies on is the abilities of teams to draft and train players to be part of the team.
In the NHL is that you can trade for anything and get anyone at anytime, anyplace. Players are traded like cattle and moved more than any other sport, and I truly believe that is why it ranks forth among major sports. Can you think of one intelligent person that says baseball is better to watch than Hockey? So for this I created a new salary cap system.
With my salary cap of 20 Million, players that are drafted by a particular team are not counted against the salary cap. For instance Pavel Datsyuk, Henrik Zetterberg, Niklas Kronwall and Shawn Matthias, all drafted by Detroit would not count against their salary cap. It is ridiculous that right now, teams that have drafted well are unable to keep their star players because of the cap.

The current Salary cap for teams is 56.7 million maximum team payroll and 40.7 million minumum team payroll.
Removing the salary cap from players that are drafted by teams, not only rewards teams that drafted well, but also will have the effect of having many more players play their career with the same team. This will create a more devoted fan base and in turn raise the popularity of the NHL and hockey in general. The longer a player plays with a team the more devoted of a fan base that player gets. Fans will not have to ask themselves: "Should I get this players jersey, he could get traded any minute now?"
This could be good for a player as well, as he will not have to up and move his family around all the time, and players will not have to accept less money just to stay and play with a good team that wants to keep all their players..
While the 20 million amount isn't set in stone, I have some up with a few ideas to go with the basic principle of the concept:
A one time rule to start the process: All players currently on a given roster will not be included in that teams cap.
Once a player is traded, he will always go against the cap even if he returns to the team that drafted him.
The 20 million can move up and down just like the current salary cap does.
Almost all of the current CBA agreements can stay in effect.
Right now with the ridiculous amount of trades in the NHL, the NHL is expecting people to be devoted to a team name, and not the frequently traded players on a team.?? If the NHL wants to prosper, it needs to follow the pattern that the NFL has created and put faces to the team name.? Keeping more players on a team for their careers is a proven way to create a much larger fan base, and will create much more interest in the sport.
Related Article – click here> Pittsburgh Penguins 2009 – 2010 Salary Cap Numbers