Last year we saw Ray Shero land Marian Hossa last minute on the trade deadline.? The Penguins were for the most part the biggest movers.?? This year you really have to count Chris Kunitz?in the trade deadline deals even though it was a few days earlier.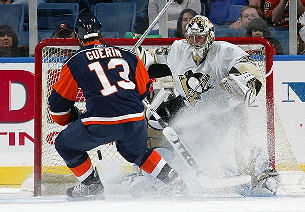 So with that being said we have the Penguins getting:
Chris Kunitz, Billy Guerin, Craig Adams, Andy Wozniewski?and Eric Tangradi?
and the Penguins losing:?
Ryan Whitney,?Danny Richmond, a?conditional 3rd to 5th round draft pick & possibly but not definitely?Miroslav Satan
Ray Shero fired Therrien earlier in the season.? Firing a coach is saying that you believe that the team is there, but the coaching is not.? Shero followed up with this in today's deadline by not trading away core members of the team and added a lot without giving up much at all.
Shero must have believed that the team was missing some grit,?judging by?the players that he picked up. Every player he picked up is a gritty in your face player.???Craig Adams?& Andy Wozniewski?should be able to fill in for players when we need to add a bit of?toughness to the lineup.? The skilled players will know that they are not going to get their heads taken off.
Chris Kunitz?has already proven to be a fantastic addition to the team and has worked well with Staal and will probably be even better on Crosby's line.?
Billy Guerin?is another go to the net player who is not afraid to get his hands dirty.? Guerin was supposed to go to another team, and I have no idea how Shero got him for a draft pick, but I'm willing to bet the Islanders were just shedding his salary for the rest of the season.?
?"It was a pretty painful process. We thought we had a deal done with another team a couple days ago." Guerin said? "Then, it just kind of made things a little awkward, so, I sat here in limbo for four days or so just kind of waiting for something to happen. I've been through trade deadlines before, and a lot of things wait until the last second to get things done."?
?I'm sure he will help out?with more than just putting the puck in the net.? He was leading the Islanders in shots this season.? The only question is who wears the 13 on the Penguins.
Craig Adams?is gritty 4th liner that is a Ruutu sort of player in that he is not afraid to stick his nose in where it doesn't belong.
Andy Wozniewski?is a giant defenseman that hasn't seen a ton of NHL time but would be able to remove unwanted people from in front of the net sort of like Hal Gill does.? I imagine having someone like him could also make salary talks with Gill go a little smoother come summer.
Eric Tangradi?a fantastic prospect who's only problem I have seen in watching video of him is that he is from Philadelphia.
All we gave away was Ryan Whitney, a minor league defenseman Danny Richmond?who was about to be demoted to the Wheeling Nailers for disciplinary reasons and a draft pick!?
I would like to give Shero a gold star for his Deadline work.? Any thoughts?