It was a long November for Ruslan Fedotenko.  In 14 games he amassed 1 goal and a whopping 3 assists.  The amazing part of his ignoble point total in November is he accomplished it while on Sidney Crosby's or Evgeni Malkin's line.  For 3 games he was on a line with both Crosby and Malkin, and he saw substantial powerplay time.  He is not just bringing himself down, he's bringing down his line mates.  Somehow while playing on a line with the two best players on earth, he ended up with a plus/minus of -4 for the month.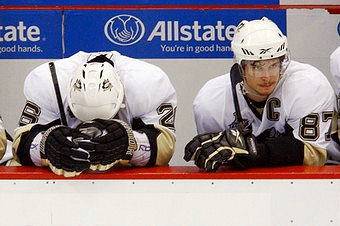 Fedotenko has never put up big numbers.  In his best season in the NHL he had 26 goals and 15 assists for a total of 41 points. That was the only season  he had 20 or more goals. He has averaged 34 points a season in the 8 seasons he has played.  These numbers do not qualify him to be on the top two lines.                                                       
Tonight's lineup has Fedotenko penciled in along side Malkin.  Malkin needs a winger who can get the puck to him to let him do his magic and Fedotenko is not that guy.  When you look at Fedotenko's best season the thing that stands out is that he almost had twice as many goals as assists, a trend that is usually found in goal scorers and his average of 17 goals a season are not goal scorers numbers.  In Fedotenko's breakout playoff year with Tampa he had 12 goals and only 2 assists.  These are not the numbers of a passer.  Malkin needs and deserves better.
The Fedotenko experiment was a failure.  Kunitz is not near ready to return to the lineup.  Place Tyler Kennedy on Malkin's line and drop Fedotenko down to Staal's line so he can get his mojo back.