What can you say about the job that Ray Shero did to make the Pens a playoff hockey team? Chris Kunitz. new daddy — what a presence on the ice! This man just loves to hit people. And he can do so much more.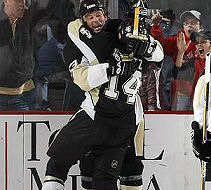 Billy Guerin. I always loved Billy Guerin as a hockey player and hoped some day he would play for the Pens. He's not quite the player he was in his prime, but he certainly fits the bill for what the Pens needed right now.
Craig Adams, picked up off of waivers from the Blackhawks — I was so happy with Bylsma's decision to keep him in the lineup after game one. The guy is an outstanding penalty killer, he loves to hit people, and he makes the fourth line – a unit that Bylsma can be confident in when he puts them on the ice.
Not an actual deadline trade, but the return of Gonchar at that same time has been a major plus. This is not the same team that Therrien was fired from coaching.
Game 2, trailed twice and responded. The Flyers gave all that they had, and played a tremendous hockey game. The Pens equaled them in grit and determination and the game truly deserved an overtime period. In the end, the Flyers' penchant for taking penalties cost them the chance to even the series. This was only the second time in NHL history that a playoff game was won on a 5-3 goal. Both penalties had to be called and Billy Guerin ended it. So we head to Philly up 2-0, looking for at least a split. At worst we end it at home on Thursday.
That's the view from E-11.