Given these last few days trades have settled down a bit… there were some winners and some major losers. Three of those losers the Flightless Birdies are chasing. There are?also winners.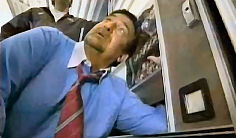 Trade Deadlines are way overrated… that's what the Capitals Owner (Ted Leonsis) and GM (George McPhee) claim. http://www.tedstake.com/?p=3603
Except possibly in Calgary where (Holi-Olli) with the addition of Jokinen and Leopold seems to have ignited the FLAMES. That's a very solid line they have with Jokinen centering Iginla and Cammalleri.? There's another team challenging the Sharks and Red Wings in the WEST.?
The FLYERS appear to have fell into the same salary cap problem that the CAPITALS did… how else could you explain the Flyers dumping Upshall for Carcillo. And then opting for McLaren who maybe a decade ago was as good as Hatcher.?? Today Hatcher and McLaren are about nothing to anyone.? The Capitals continued their annual BSing of the fan base?claiming things that just aren't true.?? Leonsis is a master of the BS… http://www.tedstake.com/?p=3605?? They did nothing yet these two teams (Flyers and Capitals) have?teams very similar to like we?had at this time, last year… when we aggressively went after Hossa.?
The Capitals and Flyers fans should be very pissed-off.? The Flyers fans will but the Capitals fans will buy into this bullshit once again…? they always do.
All this makes you wonder a little bit what team(s) bailed on a done deal with Guerin.? A conditional pick and yet they bailed? It could?have been?that it was the Bruins that bailed but rumors also say it was the Capitals and/or the Flyers who have zero salary cap room.
Did the Bruins GM really think Recchi was more valuable than Guerin? Boston needed to get bigger and comparing the two players the Penguins got the much better of that deal. Boston dumped some good prospects to get Recchi and also got outplayed last night by the Coyotes. That should start them thinking a bit. The Capitals without Ovechkin look like a middle of the road team. Boudreau went nuts on the bench and they lose to the Maple Leafs. The Maple Leafs and Coyotes were sellers and yet beat two teams who are claimed to be powerhouses in the East.
Daniel Briere, another Flyer salary cap drain, could be gone for the season with yet another injury. This could be one of the worst signings of the last 5-years. One game earlier and he could have been on LTIR and his $6.5 million used to make some trade deadline deal to actually improve the team.? Same with the Capitals who have a host of bad signings, led by Nylander, along with Clark, Pothier, Poti, Theodore and to some extent Fedorov. Way too many dollars that they couldn't shed so they did nothing. They couldn't even get a backup goalie for Theodore.
The winners in the east are three teams:
Our Penguins – for Whitney (who seriously is hurt but still will be a solid defenseman) we get Kunitz and Tangradi – then for a conditional (3rd to 5th pick) Guerin who really is big, and looks to be fast enough to keep up with Crosby. That's a first line which also solidifies the 2nd line and the 3rd line. For the Penguins to come out of this trade deadline successful (I had posted) that they?needed to push Dupuis and Satan and Talbot as far down the depth chart as they could. Satan got pushed all the way down to WB/S!? Shero gets 2 thumbs up no matter how things turn out.? He's even made Penguin rooters out of NYIslander fans.
The NY Rangers upgraded also. A coaching change like the Pens… Avery raring to perform on Broadway again… and the addition of Antropov and Morris without in my opinion giving up very much at all. I don't have a problem with Prucha except that I'm glad he didn't become a Penguin like some rumors claimed.
The Florida Panthers… they improved just by holding onto Bouwmeester.
Now for some speculation (as close to the real truth as it gets)…
Boston was after either Guerin or Tkachuk.? Guerin was going to the Capitals for Erik Fehr and Chris Bourque but couldn't unload Nylander. The Islanders refused Nylander but before that Tkachuk refused to waive his no trade to Boston and Boston then in a panic jumped on Recchi leaving the NYIslanders to settle for the conditional draft pick from the Penguins.
TRUST ME… It's all just good Karma.
?
This is DR HOOK… carry on