Old Reg had to go out and celebrate the victory big time last night.  So in an abbreviated segment, I would like to look beyond the Ovechkin hit.  Let's not forget the Pens won a huge game last night.  I think the best news of the whole thing is that they broke Varlamov.  In a game where the Pens had as few shots on goal as they did, they beat Varlamov 5 times.  Some of those goals were downright soft.  Thus proving that this kid is human.  It will be interesting to see how he bounces back from a tough outing.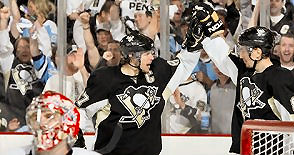 On a separate note, it appears the Pens have found the secret to beating the Caps.  Fleury must give up a bad goal very early in the game.  He did it again last night, but the team appears to rally big time around these bad goals.
Notes:
It seems to be easier to win when Crosby is joined on the scoresheet by some of his teammates.
Though Fleury gave up a bad goal early, he made a spectacular save later in the game.  
Last night was the most "invisible" I have seen Malkin all playoffs.  It is hard for me to be critical of him at all, but he followed up one of the best games I have witnessed with probably his least effective.
The Pens gave up another goal that was the direct result of a blatant missed call by the refs in the third period.
How about Talbot stepping up in Sykora's place.
Or how about Satan showing he can contribute.
I hope the Pens can take this momentum and seal the deal in these next two games.