This series has been everything and more than it was hyped up to be.  As a hockey fan, watching these games makes you see why you love the sport.  As a Penguin fan with Game 7 approaching, it has been nerve-wracking to say the least.  The roller coaster ride from game to game, shift to shift, and overtime shot to overtime shot has been overwhelming at times.  When the final outcome of the series is determined Wednesday night, it is hard to believe that the winner will only be halfway to the Stanley Cup.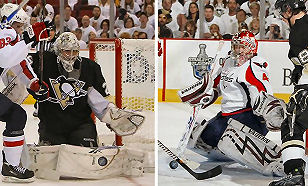 So what will the final outcome be?  Before I present some statistics to ponder, I want everyone to know that I am a big Marc Andre Fleury fan.  I believe that a Stanley Cup ring is in his future with the Penguins.  In analyzing the goalies' numbers in this series, it is easy to see that Varlamov's play has made this a 7-game series.  In the 18 regulation periods, the Penguins have outshot the Capitals in 14 of them.  Two were even, and the two times that the Capitals outshot the Penguins were in Game 4, period 2 by a count of 5-4 and in Game 5, period 1 by a count of 12-11.  With those kinds of numbers, you would have thought that the Penguins would have won this by now.  Varlamov has made more saves than Fleury in every game.  In fact, in Game 6, he made twice as many.  
Here are some of the totals — Varlamov faced 226 shots, stopping 205 of them giving him a .907 save percentage.  Fleury faced 159 shots, stopping 139 of them giving him an .874 save percentage.  If these save percentages were reversed, based on the shots taken in the series, the Penguins would have 29 goals and the Capitals would have 16.  We need Fleury to be equal to Varlamov in Game 7.  If he is, and the Penguins win the shot battle one more time, the Conference Finals are next. 
That's the view from E-11. 
Note:  It sure would be nice to see Kunitz score a goal!