Yes people, the Pens would have lost this game badly had it not been for a spectacular game by Marc-Andre Fleury.  Fleury made 45 saves on 46 shots.  Some of those saves were of a spectacular nature.  This is perhaps the third game in a row the Penguins were outplayed.  Fortunately,  they have won two of those three. That could be a good sign for things to come.  If they get their game together, it should be an easy win.  I would, however prefer to see them win because they played a better game.  You have to give Philly credit again, they came out strong.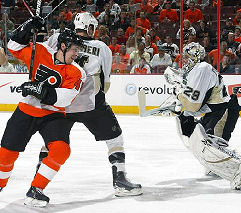 I have brought this up before, but two things that still drive me crazy about the Penguins game.  1.  They seem to have a very difficult time clearing pucks when they are on the P.K.  I saw it multiple times tonight.  It was particularly evident at the end when they were protecting the lead.  2. Why do the defensemen back up so far when guys are driving in on them.  I understand they don't want to take a risk, but if you back all the way up to your own goal line, the other guys are going to get a shot.
I would love to see the Pens get back to hitting the Flyers more often.  They were outhit again.  The Flyers had 24 hits to the Pens 12 hits.  Brooks Orpik had 14 hits by himself in game 2.  The Flyers had 46 shots on goal to the Pens 26.  That is very lopsided.  Add to that, the Penguins also had 20 blocked shots, and that equals a lot of rubber flying in our zone.
On the positive side, the Pens are coming home Thursday with an opportunity to end the series.  
Notes:
The powerplay continues to struggle.  Today they went 0-5 with very little in the way of good chances.  They need to make Philly pay for their penalties.
Petr Sykora continues to struggle.  He missed a golden opportunity to end his drought on a loose puck in the goal mouth.  I hope Petr can come home and lossen his grip on the stick.
Tyler Kennedy was awesome tonight.  The third line has been consistently the best line.  These guys are working hard, scoring and drawing penalties.
I think Ruslan Fedotenko is on the verge of making some things happen.  I thought he was flying tonight.  He created some good scoring chances.  Let's hope he starts to contribute.
I am not sure why Dan Bylsma has been juggling the lines so much.  I hate to complain about anything he does, but the lines were clicking leading into the playoffs.  I would not let a few bad shifts change the lines.
On the bad side, the Pens took a lot of penalties.  (Some of them were a product of bad officiating)  On the good side, a great job of killing penalties.  Fleury was awsome!
Ok boys, lets close the deal on Thursday.