Well, our beloved team showed the grit and determination they needed to give us fans the ultimate moment in hockey.  I just want to wish all the players, coaches and the rest of the organization, congratulations.  I would like to thank the team for giving me and the rest of the fans a fantastic ride.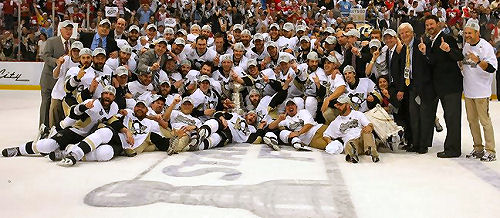 Notes:
Max Talbot has definitely lived up to his nickname "Superstar"
I have to look back at Jordan Staal's shorthanded goal as the pivotal moment in the series….in the season.
Marc-Andre Fleury was amazing……again.  That save at the end of the game was unbelievable.  The save, the timing, the emotion and the watching him throw up his hands…hesitate….then throw them up again once he knew for sure the clock had expired all added up to an awesome memory.
There was nobody more excited to hold that trophy than 38 year old Billy Guerin.
Jordan Staal was unbelievable cleaning up his own zone last night.
Congratulations to Malkin for winning the Conn Smythe Award.  
 Everybody was awesome!
What a celebration. 
Why does Bettman have to bring up that the team was in trouble just a few years ago.  Why couldn't he just focus on the moment.  He is a tool and a big reason why the NHL cannot grow larger.
On another sour note, what is up with the Hockeytown faithful booing as the Penguins were awarded the Cup?  I thought that was incredibly distasteful.  I was at game six last year and the Pittsburgh crowd was very respectful and appreciative of the moment.
What a season!  From 10th place in January to winning the Stanley Cup…..F..in awesome!
It will be interesting to see how personal moves go in the offseason.
 Pittsburgh Penguins 2009 – 2010 Salary Cap Numbers
2009 Pittsburgh Penguins Free Agents
Thanks again to the Penguins for a great time.  I am looking forward to next season and the hopes of starting a….dare I say…..Dynasty.