Will Miroslav Satan?report to the WB/S BABY Pens?
The salary cap makes teams do some creative things, and so we don't miss a step here in case some don't get it… the Penguins needed salary cap space to claim Adams off of?waivers and sign Guerin and Kunitz. Satan's $3.5 million got assigned to WB/S and he had to pass through waivers.
While he is assigned to WB/S the Penguins have to continue to pay?his?$3.5 million contract but it doesn't count against the salary cap.? A few other moves leading up to the trade deadline were made because you can only have to a maximum of fifty (50) players under contract.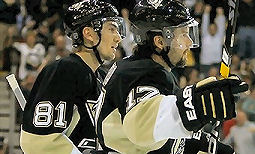 All of this is a paper transaction as Satan is still in Pittsburgh and hasn't yet reported to WB/S.? Please note?Shero hasn't asked him to report either.
Not a word out of Ray Shero one way or the other, so far… ?but some of this may hang on Petr Sykora.? How bad is?Sykora's ?shoulder and will he be put on LTIR?
LTIR (long term IR) is a move that can be used if a player is going to be out a significant amount of time and if so?that players salary can be used (to make this simple)… to reduce salary counting against the salary cap.
The NHL generally frowns on these paper transactions because some teams like Anaheim and Washington were warned about doing it to circumvent the spirit of new CBA salary cap. The NHL may force Satan to physically report to WB/S and he decides not to report -? the checks will stop.
Unless, Sykora is hurt and laid-up for a week or two we will hear something official by the end of the day March 11th at the latest in regard to Satan.
However, don't be surprised if Peter Sykora goes on LTIR and Satan is back in a Flightless Birdie sweater.? YIKES.
This is DR HOOK… carry on