Watching the refs lose sight of the puck and negate a goal for the Canadians on Thursday night which would have tied the score up late in the game, I started to wonder when the last time Marc-Andre Fluery won a game for the Penguins.  I'm not talking about him putting a W in his win column, Fleury is ranked 2nd in the league in that. I'm talking about dominating a game, I'm talking about Fleury taking the game into his own hands and keeping the biscuit out of the basket.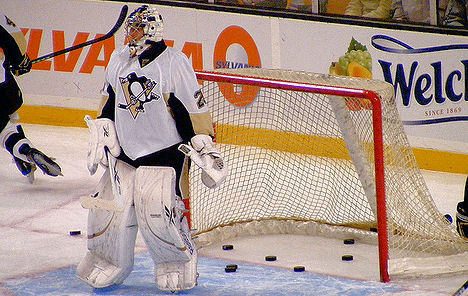 Fleury's firm grasp earlier in the season on an Olympic spot and possibly being a starter on the Canadian team has slowly dwindled away letting Martin Brodeur and Roberto Luongo pass him up.  The only difference is their aptitude for winning games for their respective teams, winning games by dominating their opponents.  I don't need to look, I promise you that Fleury has way more wins than any other goaltender since the middle of February this year. He was also the only goaltender to boast 16 wins in the playoffs and hoist the Stanley Cup.  Unfortunately when you look at one of the most important goaltender stats, the "save percentage", out of goaltenders that have played 10 games or more this year Fleury ranks 32nd in the league, yes, 32 in a league of only 30 teams.  That means that their are several teams around the league with two goaltenders on their team with better save percentages than Marc Andre-Fleury.  On an ironic note, two of the four top save percentage goaltenders in the NHL are ex-Penguins, Hedberg and Conklin.
Luckily for Fleury, he has two things going for him.  His main competition for a job on the Canadian roster, Steve Mason of the Columbus Blue Jackets has completely fell of the radar and ranks 47th in the league in save percentage, and the fact that the Canadians would look like idiots not having a guy who has shown great poise under pressure and has taken his team to the Stanley Cup finals two years in a row.  Brodeur and Luongo have not taken their NHL teams past the second round of the playoffs in five years and both were goaltenders four years ago when the Canadians finished with their worst ever Olympic Hockey showing.
While I relish the fact that we have Fleury and have not gone through the problems that Philadelphia has gone through with their goaltender merry-go-round.   The Penguins have given Fleury many chances to shine this season, like the game they outshot Minnesota 35 to 15, and still lost 2-1, they have also outshot their opponents by 196 shots.  For Fleury to be a great goaltender and not just a very good goaltender he needs to elevate his game to a higher level and start winning a few for his team.