Three games into his NHL coaching career Dan Bylsma?made what would be the biggest coaching?mistake of his new career.? Bylsma had just started his?system of aggressive?play when all of the sudden the weekend of February 21st and 22nd came up on the schedule.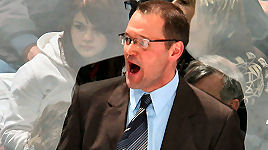 ?
Saturday and Sunday games against Philadelphia and Washington.??Back to back games against these two teams would?have any coach's head spinning,?especially one who had only coached two games on this level. This is when Bylsma made his?biggest mistake .
?
Against Washington, Crosby?had logged over 27 minutes ice time and Malkin logged over 26.? By comparison, Godard had a little over two minutes per game, Minard a little over 5 minutes and two of our best?forecheckers Pascal Dupuis and Tyler Kennedy only logged a little over 12 minutes ice time each.? Even?Ovechkin only played 18 minutes.
The wear and tear of normal back to back games is very hard on players.? The wear and tear?of players under Bylsma's system is even more excruciating, especially when playing our big?conference rivals.? Bylsma, in his exuberance, over used Crosby and Malkin causing Crosby to?get a groin pull and miss 4 games.
?
While this game plan is fine for a single game,?the use?our top 2 forwards to kill?penalties?is a NOT a good idea in back to back games?in?Bylsma's high tempo aggressive system.?
?
Luckily for Bylsma, his mistake only?caused the team win 4 in a row, though I'm not?counting on that?happening every time Crosby is out. With?3 times as much NHL coaching experience under his belt, and?with back to back games against Ottawa &?Boston this weekend, I'm hoping Bylsma learned from his mistake and forgoes using our star forwards as?penalty killers and makes full use of all four lines.