What a difference a couple of players makes. Adding Kunitz and Guerin to the lineup has completely changed the look of the Penguins. Adding more highly skilled wingers for Crosby's line makes an incredible difference in how the Pens line up. It was not fair to expect guys like Dupius and Kennedy to thrive on a line with Crosby. I am not saying that these guys are not effective, they are just effective in other ways. Having linemates for # 87 allows Dupuis and Kennedy to do what they do best on the third or fourth line. Now the Pens look good from top to bottom.
They have two highly skilled lines, a very good third line and a very high energy fourth line. ?They have more grit now and seems like maybe some of that all important chemistry is starting come back.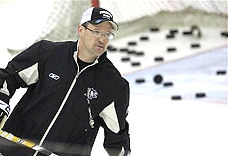 Of course, the coaching change has made a significant difference. Though he said he has not changed much, Bylsma's more "aggressive" system seems to bring out the best in all of the players. For the last three years, I did not think that Scuderi or Eaton even new where the other teams net was. Now, they are regularly getting pucks to the net. They are not the only ones who seem to be benefiting from the changes, everyone is playing better.
This drastic change in performance makes me wonder if the players may have been so unhappy with Therien that they actually played to get him fired. That seems like a stretch, but how else could you explain how badly they were playing and how much better they are playing now. ?I know the new coach, the new players and getting Gonch back have had their effect, but I watched those games when they were struggling. ?I remember thinking to myself, "they would have to try to play this badly".
Just wondering…….