I want to give big props to Max Talbot for last week on 105.9 The X, for addressing the white elephant in the room that no one wanted to talk about.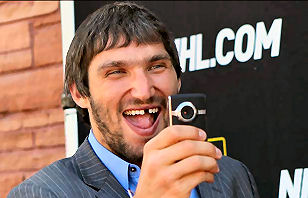 When "Mad Max" was asked about Ovechkin, he did not hold back calling him "Douche", which is what every "PenguinPoop" reader already knew.
Let's face it, Max is right. Alex Ovechkin is one of a kind hockey god, but his personality alone makes him a douche! Two quick examples come to mind. For one, the unnecessary knocking Daniel Briere into next week. Then a few weeks later he turned around and played in the All-Star game with Danny. I wonder if Ovie-douche apologized or played the my English is not very good card? Who could forget the little kid in Montreal that he snowed before the game. Ovie, I have your back if it was one of those ridiculous grown up clowns. I actually mean a Montreal Canadians fan.
If players were rated on talent alone, Ovechkin obviously rates with some of the greats of the game. Thank you hockey gods for not giving the Pittsburgh Penguins the mental anguish over drafting a douche like Ovechkin.
Ovie-douche or not, the Washington Capitals invade Heinz Field on New Year's Day and I have a feeling people will be talking about this game for years to come.