On Thursday, November 18th, Art Vandelay and I had a chance to see some Pens in a little off-ice action.  Fidelity Bank welcomed Brooks Orpik and Tyler Kennedy to their newest location at new McCandless Crossing development off of McKnight Road in the North Hills.
For the first hour, Orpik and Kennedy mingled with a smaller group of fans in a slightly more casual setting.  Art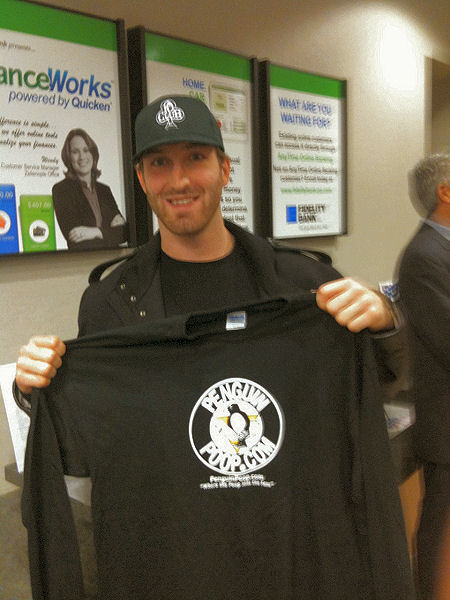 overheard Orpik having a conversation with a fan over their mutual love of the band Pearl Jam (notice the pictorial evidence of Orpik's fondness for the band).  Even while discussing a variety of topics and telling stories, Orpik maintains that down to earth, all business kind of professionalism that we've become accustomed too while still coming across as completely approachable and friendly.  Kennedy, on the other hand, at first comes across as a little more shy.  But then he breaks out what seems to be a little bit of a goofy side that he's not afraid to let show.  We caught him a few times joking around with fans.  That goofier side was also a little intrigued by the name of the blog.
During the second hour, the guys signed autographs and posed for pictures with a group of fans selected by the bank in a more traditional setting.  From the first fan in line to the last, both Brooks and Tyler were just as outgoing and gracious.  You can tell that the guys truly appreciate their fans and know that they get to do what they love because of the fans.  It was great to be able to observe these two guys away from the ice interacting with fans as "normal" people.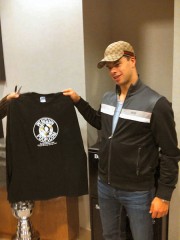 It's just like you always hear about Pens players, they really are the nicest, most down to earth guys around.  They're just like any guys you'd run into on the street, except that you probably wouldn't want to run into them in a dark alley…especially after seeing Orpik's hits.
Speaking of Orpik, he may have mentioned in a conversation that the flight home with Sid the day after the gold medal game in Vancouver was not fun at all.  It still seems like a sore subject for a guy who doesn't show much emotion.  So, I'm calling for all of our readers in the U.S. to start thinking of ways to help change that for him if NHL players participate in the 2014 Olympics.
Art would like to personally thank, on behalf of Vandelay Industries, everyone that was involved in making the night a huge success.