Since the 2005/2006 season when Sidney Crosby and Alexander Ovechkin vaulted into the NHL there were two things you could count on more than Marion Gaborik getting injured. Crosby was a passer and was always going to h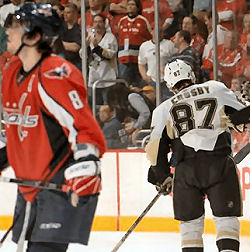 ave more assists than goals and Ovechkin was a shooter and was always going to have more goals than assists.
You can't count on anything anymore. Since the beginning of the 2005 season the NHL has basically made Crosby and Ovechkin the faces of the league, rightfully so. Since then they are #1 and #2 in the league in points per game, Crosby at 1.35 and Ovechkin at 1.33. Crosby has thrown himself head first into the media playing the straight guy to his comedic sidekick Ovechkin, who has become quite a showman himself with his goal celebrations and the act he put on at the all-star game.
Being an Olympic year, I'm sure Crosby has been tossed more advertising money and offers than Ovechkin has considering companies probably do not wish to have an arch enemy of USA and Canadian hockey teams as there spokesperson. Perhaps this has given Alexander Ovechkin a little bit of time to re-think his product.   Ovechkin this year has more assists than he has goals for the first time since his first year in the league. His game has become much more rounded.  Was it the fact that when he missed games this season the Capitals were scoring more per game without him? Was it that he saw Crosby raise the Stanley Cup over his head? Maybe it was because of the 'C' on his shoulder.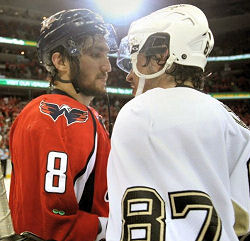 For some reason since the Capitals on January 6th pinned the 'C' on Ovechkin's jersey he has become more of a complete player. The four goals and 11 assists that he has since then has shown maybe he has started to become a team player instead of a loner. The Capitals since then have won 6 of 7 games, Tom Poti said "It was a proud moment for him putting that 'C' on" the team even stood up and cheered.
Sidney Crosby on the other hand has turned from a pass first ask questions later guy into a bona fide goal scorer. During the season last year Crosby prognosticated that he was going to work on his shooting skills and become a better shooter, and he hasn't disappointed. Crosby was the top goal scorer in the playoffs last year and he is currently 2nd in the NHL in goal scoring. He is on pace to score over 50 goals this season, surpassing his best season when he only put 39 behind enemy lines.
Crosby is on pace to have 70 more shots this season than last, conversely Ovechkin is on pace to have 180 less shots this season. Somehow while evolving their game into being complete players both have managed to remain at the top of the NHL's scoring race.  Heading in two completely different directions these two will continue to be the top players in the NHL, they will dominate the Olympics and will create historic clashes similar to that of Larry Bird vs. Magic Johnson, Ali vs. Frazier, Nicklaus vs. Palmer.   Another historic chapter in their meetings will take place this Thursday when for the first time they meet as team captains.